Sybil Francis, Ph.D.
Chair, President & CEO, Center for the Future of Arizona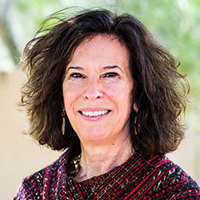 Sybil Francis, Ph.D.
Chair, President & CEO, Center for the Future of Arizona
Sybil Francis, Ph.D., serves as the, President & CEO of Center for the Future of Arizona (CFA). A member of the organization's founding team, she brings her passion for creating positive change, her love of Arizona, and her considerable prior national public policy experience to her leadership of CFA, whose mission is to bring Arizonans together to create a stronger and brighter future for our state.
Under Sybil's leadership, Center for the Future of Arizona has an ambitious and positive agenda, focused on where Arizonans agree and where there is opportunity to come together for positive change. CFA advances The Arizona We Want, based on Arizonans' Shared Public Values and shared aspirations for the future of the state. As a self-proclaimed "do-tank," CFA also impacts education, workforce, and civic engagement through its innovative programs aimed at changing the trajectory of Arizona for the good and benefit of all Arizonans.  
Earlier in her career, Sybil served in a variety of national leadership roles, including as a senior policy director in the U.S. House of Representatives, where she played a key role in shaping energy, environmental, and national security policy. She later served in the White House Office of Science and Technology Policy, where she focused on national research policy for the national laboratories and universities. 
Sybil is an elected Fellow of the American Association for the Advancement of Science and a Global Futures Scholar, Julie Ann Wrigley Global Futures Laboratory. She served on the board of The Nature Conservancy of Arizona for 12 years and chaired its Conservation and Public Policy Committee for much of her tenure. She was a founder and remains the Standing Chair of ASU's Women and Philanthropy program, a model women's organization with a unique approach to engaging women in the community. She is a member of the Arizona Women's Forum and Charter 100.
Widely regarded as a visionary leader, Sybil was recognized as a Woman of Achievement by InBusiness Magazine in 2020 and named one of Arizona's 48 Most Intriguing Women in 2022 by 48 Arizona Women and the Arizona Historical Society. Arizona Capitol Times twice honored her–among the Women Achievers of Arizona in 2021 and the Leaders of the Year in Public Policy in 2022. The Phoenix Business Journal also recognized her as an Outstanding Woman in Business in 2011 and as the Lifetime Achievement Most Admired Leader Honoree in 2023.
Sybil earned her BA in Chemistry from Oberlin College and her Ph.D. in Political Science from the Massachusetts Institute of Technology.
She and her husband, Dr. Michael Crow, live in Paradise Valley. She finds great joy in being the mother of their adult daughter.