Aaron Ball, Ed.D.
Director, College & Career Pathways Liaison, Southern Arizona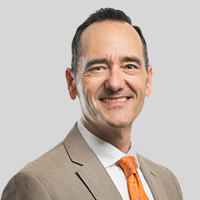 Aaron Ball, Ed.D.
Director, College & Career Pathways Liaison, Southern Arizona
Aaron Ball started his career as an Agriscience High School Teacher. After five years of teaching, he moved to school administration and spent two years as a high school assistant principal and two years as an elementary principal.  Prior to coming to CFA Ball was Assistant Superintendent/Chief Academic Officer for nearly seven years with the Pima County Joint Technical Education District.  In that role, he worked to build partnerships with business, K-12, postsecondary institutions and community-based organizations.
Ball holds a Bachelor's degree in Agriculture and a Master's degree in Agriculture Education, both from the University of Arizona. He holds a doctorate in educational leadership from Northern Arizona University.
How is CFA's work important to you?
Having been in education all my career and having kids of my own, it's important to me that there are great opportunities for young people in Arizona. It's important that they find something they are passionate about, stay in Arizona, make a living, and make a difference in their communities.
What do you love about Arizona?
I love diversity of people and climates in Arizona. It makes it a robust place to live. I love that I can be in the desert then be somewhere else in a couple hours. Arizona is a great place to live and be outside every day.
What's your story? What was your path to CFA?
I took a path that really exemplifies our Pathways to Prosperity work. I got an advanced degree in science, then became a teacher. I moved to administration and went from directly supporting classrooms to working on a regional basis. I believe it set me up well to work at CFA with Pathways to Prosperity. I've had a wide variety of experiences that led me here.
How does your work impact CFA?
The work I do with Pathways to Prosperity has helped CFA's impact broader systems. It started in trying to figure out how the workforce and education systems can better work together, so we work across education and industry. The big question with this work is how do we catalyze systems change?
When did you first consider Arizona home to you?
I'm a fourth generation native Arizonan from Tucson. My family has been in Arizona for over 100 years now. I explored leaving the state at one point, but I have good roots here. It makes it hard to leave - not that I would really want to.
How do you hope to impact Arizona through your work at CFA?
I want to help make sure that every young person in the state has access to economic opportunity through true education. It's important to me being a native Arizonan that students in remote communities have good opportunities.