Amanda Burke, Ed.D.
Executive Vice President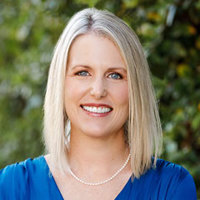 Amanda Burke, Ed.D.
Executive Vice President
Dr. Amanda Burke is Executive Vice President of the Center for the Future of Arizona. Dr. Burke focuses on innovation and systemic change that will advance the priorities of Arizonans and the long-term future success of the state. She is responsible for the organization's strategy, operations, and program leadership, including CFA's statewide initiatives in the areas of education, workforce, and civic engagement.
Dr. Burke previously served as CFA's Managing Director for Strategic Initiatives and Impact. Prior to joining CFA in 2009, she was the Director of Education Innovation and Policy at Arizona State University in the Office of University Initiatives within the Office of the President. Since 2004, Dr. Burke has worked at the intersection of policy and practice, advancing statewide policy and leading the design and implementation of large-scale innovative initiatives and programs. She is a Teach For America alumna and also worked as a consultant with the global management consulting firm Accenture.
In the community, Dr. Burke serves on the Board of Trustees for the Desert Botanical Garden. She is a member of the Kyah Rayne Foundation's strategy team, advancing food allergy awareness and education, and is also an active volunteer with the parent teacher organization at her children's elementary school. Dr. Burke is a recognized leader in education and public policy, named Leader of the Year in Public Policy for Education by the Arizona Capital Times.
Dr. Burke earned a Doctorate of Educational Leadership and Innovation and a Master of Educational Administration and Supervision from Arizona State University. She also holds a bachelor of arts in English from the University of Texas at Austin. Amanda lives in Phoenix with her husband and their two young boys.
How is CFA's work important to you?
I love taking big ideas and putting them into practice to make a difference in the lives of people. That's exactly what we do at CFA. My own career started in education as a classroom teacher. I believe that education opens doors and creates future opportunity. I'm proud that CFA's work is anchored in education, workforce, and civic engagement. These areas are foundational to the success of Arizonans and our state. Also important to me is the fact that we take our cues from what Arizonans say matters most to them. We do our best every day to listen to what Arizonans care about and then figure out how we can make that a reality, with a focus on equitable outcomes. All of this makes CFA a special and exciting place to work.
What do you love about Arizona?
I love the landscape and the sense of possibility. Arizona is a young state and our story is still being written. That is exciting to me because it means that there is lots of opportunity to shape the future success of our state. You can be young and in a leadership position. You can have an idea and make it happen. It's really possible from any sector and many different seats.
What's your story? What was your path to CFA?
I moved to Arizona from Texas for graduate school. I wanted to be a high school principal working with kids in low-income communities. While in graduate school at Arizona State University I had the opportunity to work at ASU and staff President Michael Crow in his role as a member of the Arizona State Board of Education and Governor Napolitano's P-20 Education Council. I was able to see how state level policy was shaped and the impact it has on the ground. Seeking opportunities to have the greatest impact possible in education and the lives of students, I became really interested in systems change and the relationship between policy and practice. That ultimately led me to CFA, where I joined the team in 2009 to lead a brand new statewide education initiative – Move On When Ready. 
How does your work impact CFA?
In my current role at CFA I work across the organization to create the most impact possible in alignment with our organization's mission of bringing Arizonan's together to create a stronger and brighter future for our state. A big part of my job is ensuring continued excellence across programs, finance and administration, fundraising, communications, and operations. I work alongside my amazing colleagues to support them in achieving their specific objectives while keeping in mind the big picture. I am an ideas person, but take great joy in figuring out how to make things concrete and love figuring out how to clear the way so ideas can become reality.
When did you first consider Arizona home to you?
In an effort to get me to move to Arizona, one of my best friends photoshopped a picture of me at the Arizona state line. She also created a mini communications campaign – "Move to Phoenix, it's the hot thing to do." I still have the photo, which makes me smile to this day and was actually what got me thinking about moving to Arizona as an adult. My mom grew up in Tucson. Even though I was raised in Texas, I've always had family in Arizona and a sense of connection to this state. My grandpa worked for Shamrock Farms and to this day, I always reach for that brand of milk at the grocery store. All that said, the truth is that Arizona first became home to me when my children were born here. Raising children here has changed my perspective. My husband and I have put down roots and this is home.
How do you hope to impact Arizona through your work at CFA?
I hope to create change that makes a meaningful difference in the lives of Arizonans today and into the future - for my children and future generations. Equity is a big driver for me personally and professionally. Through my work at CFA, I want to create a more prosperous future for all Arizonans.