Ellen R. Babby, Ph.D.
Senior Fellow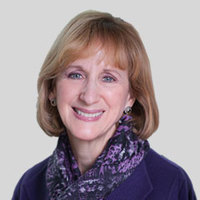 Ellen R. Babby, Ph.D.
Senior Fellow
Ellen Babby, Senior Fellow at CFA, brings over 30 years of experience in executive management in the non-profit arena with a focus on higher education.  Ellen moved to Phoenix in 2012 after serving for several years as Vice President, Advancement & Strategic Alliances, at the American Council on Education (ACE) in Washington, DC.
Having worked at the national level, Ellen has really appreciated the opportunity to learn more about Arizona and get involved in the issues that are central to Arizonans. She recognizes the pivotal role that CFA is playing in building a stronger and brighter future for Arizona and has been assisting staff, particularly the CEO, in strengthening the Center.
A native of Montreal, Ellen came to Arizona from Washington DC with her husband, Lon, who was serving as President of the Phoenix Suns.  She began working with Lattie Coor, Founder of CFA, shortly after arriving in Phoenix and continues to enjoy the opportunity to increase CFA's impact.
How is CFA's work important to you?
As a relative newcomer to Arizona, I have learned so much through my work with CFA, particularly about the State's many opportunities and challenges. CFA has enabled me to engage more deeply with some of Arizona's key stakeholders who work diligently to improve the lives of Arizonans.
What do you love about Arizona?
I love the beauty of Arizona, particularly the open spaces and mountains. 
What's your story? What was your path to CFA?
I came to Arizona from the Washington DC area when my husband was appointed President of Basketball Operations of the Phoenix Suns. I met Dr. Lattie Coor shortly after and, based on my prior work, was invited to become a Senior Fellow at CFA.
How does your work impact CFA?
I currently work with Dr. Sybil Francis on a number of issues. These have included governance, strategy and development.
When did you first consider Arizona home?
After settling in, I quickly adopted Arizona as my new home. I still travel east often to see family, but truly enjoy living in Arizona.
How do you hope to impact Arizona through your work at CFA?
I hope to continue to assist in strengthening CFA and thereby its impact on the many issues confronting Arizona.