Larry E. Penley, Ph.D.
Senior Fellow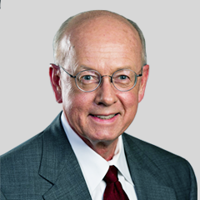 Larry E. Penley, Ph.D.
Senior Fellow
Dr. Penley is also President of Penley Consulting, LLC where he works with senior executives in business and higher education. He has decades of experience in higher education, serving currently as Regent and Chairman for the Arizona Board of Regents.  Formerly he was President of the Thunderbird School of Global Management, President of Colorado State University (CSU), and Chancellor of the CSU System.  He was Dean of the W. P. Carey School of Business at ASU where he held the Herberger Arizona Heritage chaired Professorship.  He is Arizona State University Professor Emeritus. 
He has served on numerous boards, including the Board of ESC Toulouse, a French institution, Thunderbird School of Global Management, Glion Institute of Higher Education, a Swiss institution, Wells Fargo Credit Card Company, Adaptive Curriculum, Mountain States Employers Council, the Greater Phoenix Economic Council (GPEC), AACSB International (Chairman), INROADS Arizona and the National Renewable Energy Laboratory.  He has worked with other higher education institutions as a confidential advisor during discussions of potential mergers and alliances.  
Dr. Penley is a Latin Americanist who was awarded a Fulbright Scholarship in Mexico.  In addition to his US academic appointments, he has held appointments in Venezuela and Mexico.  He has lectured in Europe, Asia, and Latin America.  His doctorate is from the University of Georgia; his bachelor's and master's degrees are from Wake Forest University.  He and his wife, Yolanda Sanchez Penley, first moved to Arizona in 1985.