Madison Rock
Project Manager, Civic Health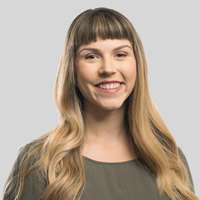 Madison Rock
Project Manager, Civic Health
Madison Rock is a born and raised Arizonan and self-described cheerleader for democracy. She is passionate about guiding young people through the process of self-empowerment, innovative problem solving, and developing strong, resilient communities. As the Civic Health Project Manager at the Center for the Future of Arizona, she supports strategies and initiatives to improve Arizona's civic health, including the school participatory budgeting program where students "learn democracy by doing" by making decisions over a portion of the district's budget. Madison has been deeply engaged with the Phoenix Union SPB model since its early adoption and has supported its scale to district-wide expansion. Madison has helped seed and support SPB processes in Chandler Unified, Roosevelt School District, Sunnyside Unified, Queen Creek Unified, and Carson Jr. High. She also serves as a global mentor on School PB in the Rising Stars PB Mentorship Program. Madison graduated from Arizona State University with an Executive Masters in Public Administration. Her area of study focuses on sustainability, community development, and participatory budgeting.
How is CFA's work important to you?
The work of this organization is important to me because I am an Arizonan through and through. I was born and raised here and my family has been here for six generations, including my two young children. They originally settled in Duncan, Arizona in 1901 and we have been here ever since. It's important to me that there is an organization that deeply cares about Arizona's future and where we are headed as a state, so all Arizonans have an opportunity to thrive.
What do you love about Arizona?
Honestly, everything. I love the weather. I love that no matter where you are in this state you can go to a different climate. Arizona is so diverse: the landscape and the people. I love the food in Arizona, especially Mexican food. My husband, who is from upstate New York, used to joke that I could wrap anything in a tortilla. Importantly, I love the culture of opportunity and innovation. I am so grateful for the opportunities I have been afforded to build a life for myself and for my family in Arizona.
What's your story? What was your path to CFA?
Like many early twenty-somethings, I struggled to find my path. I began a career in the restaurant industry, working on the development of craft cocktail menus alongside local restauranteurs. I loved it and saw a career for myself in the service industry. I think that comes from my deep love of community. Restaurants are a gathering place for people and I loved contributing to a sense of community for our guests. I decided to go back to school after I had   my first child to pursue a degree in public service and public policy at Arizona State University. As a new mother, the tremendous challenges facing our communities and my commitment to leave the world a better place for our rising generations became even more clear... During my undergraduate journey, I began volunteering with Phoenix Union's participatory budgeting program. I fell in love with PB as a tool for building community. I kept showing up to every workshop and every training for the entire year and was incredibly fortunate to transition into a full-time role at the completion of my undergraduate program. It's been a windy road to a career in civic health and public service, but it all comes back to my love for community and my desire bring people together in Arizona to tackle tough challenges.
How does your work impact CFA?
As the Civic Health Program Coordinator, I lead our youth civic engagement initiatives, including our cornerstone efforts on  school participatory budgeting. It's been amazing to help grow the process from its pilot year in Phoenix Union to other districts around the state, engaging over 50,000 students annually. It's been such an honor to lead that work alongside my colleagues and partners.
In addition to participatory budgeting, I also support strategies and initiatives to improve Arizona's civic health, including our civic health and young talent progress meters, Community Conversations, and Communities at the Center.  My work helps to bridge and bond the social fabric of Arizona communities, create resiliency, and build the capacity and leadership of young Arizonans to tackle tough challenges and solve public-problems for the long-term. Like CFA, I believe bright and vibrant civic life is imperative to making progress toward the Arizona we all want.
When did you first consider Arizona home to you?
I've always been an Arizonan, but I decided that Arizona was going to be my permanent home after I had my children. Having deep roots in Arizona and a lot of family that are super supportive helps to keep me grounded in Arizona.
Arizona is the place I want my children to grow up. I want them to experience the things I experienced as a child: warm summers, amazing winters, going up to the snow when you want snow, but not being forced into it. Moreover, I want my children to experience the culture, our strong family history, and a small-town vibe in a big city of opportunity.
How do you hope to impact Arizona through your work at CFA?
Related to my role at CFA, I hope I'm able to help empower young people to see their own agency in their lives. Whether that be in their careers, in college, or civic life. I hope to help cultivate passion, agency, and an ability to innovative and problem-solve among our rising generation of Arizonans. I also hope to see movement on all indicators of civic health. I would like to see more people voting, more people volunteering, more people calling their elected officials, and more people talking to people who are different than them. I would like to see people working together to solve community challenges.