Orlando Cazarez
Sr. Program Manager, Workforce Development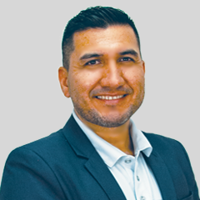 Orlando Cazarez
Sr. Program Manager, Workforce Development
Orlando Cazarez is a native of Sinaloa, Mexico and has lived in Arizona since 1988. Orlando is a graduate of Arizona State University WP Carey School of Business with a degree in Computer Information Systems. He also holds a certificate in Energy & Sustainability from ASU and a Master's degree from Thunderbird School of Global Management. His past 20 years of professional experience include roles as IBM's state & local government client representative, territory sales/trainer at First American Title and prior to joining CFA he held the position of Sr. Director of Business Development at the Arizona Hispanic Chamber of Commerce.
Orlando's recent active roles in the community include serving on the Xico Latinx & Indigenous Art Inc. board and was also an instructor and mentor for the Young Entrepreneur Academy at Phoenix Community College.  He served a 5-year Federal Political Coordinator appointment with Congressman Ruben Gallego's AZ District 7 on real estate policy. Orlando proudly serves in the ARMY National Guard's 159th Finance Detachment, and is also a graduate of the Hispanic Leadership Institute.
Orlando, his wife Irma and their 3 children, Ethan, Aden & Eliza live in the South Mountain community of Laveen. They enjoy hiking, cycling, camping, and trips to the beach as a family.  Orlando's creativity is expressed through a personal venture titled @CarverMountainShop featuring functional handmade art pieces made of recycled materials such as license plates and reclaimed wood.
How is CFA's work important to you?
It is a very encouraging and hopeful feeling coming to a place like CFA after spending the majority of my career in the corporate world. CFA is actively impacting the way processes and practices happen and continues to produce results in our state. As a father and a civically engaged member of my community, it matters more and more each day that organizations like CFA exists and advance in their efforts to identify and bring solutions to our education system and our economy. I'm passionate about being a part of a work in progress that can be replicated in other parts of our globe to improve lives and strengthen communities.
What do you love about Arizona?
I've lived in Arizona the majority of my life and it has been a great state to experience nature and cross cultures while learning and building long lasting relationships. No matter how many times you get out to our desert or our high country, there is always something new.  I really enjoy that even after living here most of my life I continue to discover new parts of Arizona regularly.
What's your story? What was your path to CFA?
Like a lot of Arizonans, I wasn't born here. I was transplanted by my parents. My parents were migrant workers.  I was lucky to be surrounded by good teachers and good.  Traveling is essential to my joy in life, I live by the mantra of taking the long way there and a different route back. The more people, cultures and foods I come across the more fulfilled I feel. Seeing my children grow and creating memories with them is a blessing in itself.  Similarly, my professional career has not been linear and I'm just happy to have experienced the variety of sectors and size of employers from IBM to CFA. people who cared and guided me.
How does your work impact CFA?
The work that we do specifically in RetailWorks is funded by Walmart. The parameters of the grant are to impact lives of those who work in retail within Arizona. The end goal is to help front line retail employees find a career path they can succeed in.
We aim to increase retention in the sector, improve the up-skilling of retail employees, and enable them to have easier and quicker upward mobility in their careers. The retail sector is the third largest in the Phoenix Metro area and over 284,000 people work in retail in Arizona.
When did you first consider Arizona home to you?
After I graduated from ASU with my undergraduate degree, I gained a sense of pride that I welcomed and really felt as part of the state from then on as an adult launching into my professional career. I think that was one of the pivotal moments when I saw myself as an Arizonan. Growing up from an immigrant family, a lot of kids like me still don't envision that as part of their future.
How do you hope to impact Arizona through your work at CFA?
I hope to help establish change in the ecosystem of our work, a change for the better. Our work is measured by how the funding that makes our work possible translates to impact in Arizona's retail sector. This impact is helping connect education and industry so they better match their efforts to support Arizonans succeed in their careers.