Robert Raygoza
Director, Development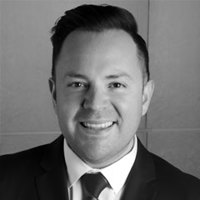 Robert Raygoza
Director, Development
Robert Raygoza has worked in the nonprofit sector for than 15 years in programs, administration, and development roles. Robert's passion for connecting communities, companies, and individual donors to the causes they care about leads his drive for making an impact in his community.
Before CFA, Robert served as Director of Development and Marketing for Care Fund, where he was responsible for raising more than $1.5M for their emergency mortgage and rent assistance program for families caring for a critically ill child.
Collectively, Robert has helped to raise over $5 million for nonprofits in Arizona. Robert is a past-communications chair of the Association of Fundraising Professionals Greater Arizona Chapter. Robert holds a B.S. in Nonprofit Leadership and Management from Arizona State University and is a graduate of Valle del Sol's Hispanic Leadership Institute's 2013 class.
How is CFA's work important to you?
Being a first-generation college graduate, education is super important for me. I have personally seen why having a degree is so important. I want to continue to support education is Arizona through our work here at CFA.
What do you love about Arizona?
Arizona is a place in which you can be new to the state and make a name for yourself and have a large impact. I know people that have only been here for four years, but have already made a name for themselves in education and politics. Phoenix is a big city, but it has a small town feel where people know who you are in the community.
What's your story? What was your path to CFA?
I worked with CFA's previous development director at Free Arts for Abused Children of Arizona, so through her I knew about CFA and the work it was doing. I was at a point where I wasn't necessarily looking for a new job, but just exploring opportunities to see what was out there. I wanted to be aligned with an organization that is doing good work. CFA is doing good work and I'm happy to be with an organization I believe in.
How does your work impact CFA?
I have the ability to raise awareness as well as raise financial support for us to continue to do our work around our initiatives. I identify people whose giving aligns with the work we're doing in education, workforce, and civic health. I connect with those individuals and essentially give them a platform to support our organization's mission.
When did you first consider Arizona home to you?
I am a native, so Arizona has been home since I was born. I did move away for about four years in LA. I worked for a nonprofit there. I was a small fish in a big pond in LA. The main industry there is entertainment, so a lot of transplants go there. Everyone is always looking out for themselves and not for the community. I really wanted to come back and be near my friends and family and make an impact in my community.
How do you hope to impact Arizona through your work at CFA?
I hope to continue to work on initiatives that are important to Arizona and identifying individuals who want to support our efforts.
I think education is a priority to all Arizonans. We want to have better outcomes for students and teachers. In other countries, you see teachers treated as celebrities and they are paid well. In Arizona unfortunately, they are not valued as much. I think that needs to change. If my work at CFA can help provide financial assistance to continue to move the needle, then I'm more than happy to ask people to engage with us.