Sharon Brady, Ph.D.
Grant Proposal Writer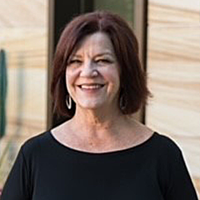 Sharon Brady, Ph.D.
Grant Proposal Writer
Sharon Brady joined Center for the Future of Arizona in 2021. She has more than thirty years of experience in government, university, and other non-profit sectors creating, coordinating, and directing grant-funded programs and projects, as well as advancing post-secondary education. She worked as professional staff for 10 years at the University of Kentucky's Interdisciplinary Human Development Institute and the College of Education on grant-funded personnel preparation programs, model demonstration projects, and research initiatives. After completion of a doctorate, Sharon was an Assistant Professor at Kent State University (Ohio), Early Childhood Intervention Graduate Program and Arizona State University, Graduate Program in Infants and Young Children. In 2008, she began working in the Valley's non-profit sector, first directing a statewide, grant-funded scholarship program to increase opportunities for early care and education professionals to pursue a post-secondary education and then administering a statewide, grant-funded early literacy program that served low-income children, birth to age 3. More recently, Sharon worked as the Grants Officer at a local museum. Always wanting to stay connected to higher education, she remained an adjunct faculty member at South Mountain Community College, Early Learning and Development Program until 2019.
Sharon has a doctorate in Individual Development and Family Studies from the University of Delaware, a master's degree in Rehabilitation Counseling from the University of Kentucky, and a bachelor's degree in Special Education from Appalachian State University, North Carolina.
How is CFA's work important to you?
As a first-generation college student, I feel a responsibility to ensure that every individual has equal opportunity for a quality education and all of CFA's programs share the common foundation of exposure to quality education. Education is so highly correlated with all other aspects of our society and the benefits of a quality education are boundless.
What do you love about Arizona?
I love the breathtaking natural beauty of Arizona, the diversity of the people who reside here, and, of course, the weather.
How does your work impact CFA?
As the Grant Proposal Writer, my primary role will be to work collaboratively with the team to ensure the fiscal sustainability of CFA's programs, secure external support for new programs and initiatives as needs are identified by communities and leaders, and build a stronger and brighter future for this beautiful state.
When did you first consider Arizona home to you?
I had been living in Arizona for about a year and was in conversation with a friend visiting from the East coast when she asked "when are you going to move back home?" I remember laughing and saying to her "I am home." It was at that moment that I felt this sense of peace about my decision to move here.
How do you hope to impact Arizona through your work at CFA?
For many years now, CFA has been on the forefront of developing new ways of thinking about and resolving our state's complex problems in education, civic health, and workforce development. Strategic partnerships and coordinated actions between CFA and current and future grantors will move us closer to improving the quality of life for all Arizonans and advancing the future success of our state.