Sybil Francis, Ph.D.
President & CEO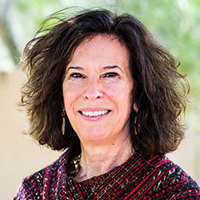 Sybil Francis, Ph.D.
President & CEO
Dr. Sybil Francis is President & CEO of the Center for the Future of Arizona and was part of its founding team. Dr. Francis brings her passion for creating positive change, her love of Arizona, and her considerable prior national public policy experience to her leadership of CFA, whose mission is to bring Arizonans together to create a stronger and brighter future for Arizona. Prior to being named President & CEO, she served as executive director of CFA from 2002 – 2018 during which time she spearheaded key initiatives in education, workforce, and civic engagement and grew the organization's impact and programs.  
Dr. Francis began her career working in the U.S. House of Representatives where she played a key role in shaping energy, environmental and national security policy. She later served in the White House Office of Science and Technology Policy where she focused on national research policy. Just prior to moving to Arizona in 2002 She was part of the leadership team of The Cooper Union for the Advancement of Science and Art in New York City.
Dr. Francis is an elected Fellow of the American Association for the Advancement of Science. She serves on the board of The Nature Conservancy of Arizona, for which she chairs the Conservation and Public Policy Committee. She was a founder and remains the Standing Chair of ASU's Women and Philanthropy program, a model women's organization with a unique approach for engaging women in the community. Dr. Francis was recognized in 2011 as one of Phoenix Business Journal's Women in Business and by InBusiness Magazine in 2020 as a Woman of Achievement. She is a member of the Arizona Women's Forum and Charter 100.
Dr. Francis earned her B.A. in chemistry at Oberlin College and her Ph.D. in political science from the Massachusetts Institute of Technology.
She is a heritage French speaker and enjoys hiking throughout Arizona and around the world with her husband Michael Crow.
How is CFA's work important to you?
In my life I've always wanted to be engaged in doing something for my community and the country. Wherever I am, I feel that drive. I have worked in D.C. and took that on with great gusto. In coming to Arizona, I immediately felt this was home and I wanted to engage in important ways. Being engaged is in where I am is meaningful to me. I don't really know where that comes from, but that's just something I really like.
What do you love about Arizona?
Like so many people, I love the natural beauty here. I'm a big hiker. I walk outside and it just makes me feel happy; it's so beautiful. I'm from the East Coast and I just fell in love with the desert and I love its sense of openness. I love the sense of kind of freedom and independence. It's a welcoming place. Arizona has a fresh and open sense, but there is also rich a heritage that goes back thousands of years. There aren't a lot of constraints on what you can imagine and do here. If you work really hard, you can actually make a difference.
What's your story? What was your path to CFA?
In a straightforward, practical sense, I moved to Arizona with my husband who was appointed president of ASU. I had worked professionally my whole life and I was curious about what kind of professional work I could do in Arizona. The previous president of ASU, Lattie Coor, was stepping aside. Lattie and I had lunch one day and had a meeting of the minds. He had this idea for Center for the Future of Arizona. With his area of expertise and my background in public policy, it seemed like the perfect thing for me. It gave me an opportunity to get immediately engaged in the things that I love to do.
How does your work impact CFA?
My role has evolved over time since Lattie and I started CFA. At the beginning I was part of the building and conceptualization. As we started to grow, we needed to hire some staff. Now, as the leader of the organization, I set the strategic direction and make sure all the pieces come together so that we can succeed.
When did you first consider Arizona home to you?
I felt at home here pretty much right away. We moved here from New York City and I just fell in love with it. I had lived in California and spent some time in New Mexico before. I just love the dry air and the colors of the Southwest.
How do you hope to impact Arizona through your work at CFA?
I would love to see people feeling a greater attachment and love for Arizona. I think Arizonans are very independent people and that's what attracts people here. But we also have to recognize that we have a shared interest in the future. We have all these things in common that we care about, despite our different interests and different cultures. If people could be prouder of Arizona, then we can work together to build a bright future for this state.