A Statement From Our President & CEO Sybil Francis
So much is changing throughout Arizona and the world in response to COVID-19.
How we position our state to succeed in changing times and focus on the future, even as we address the immediate impact on our economy and our people, is key to emerging from this crisis stronger, more connected, and more committed to each other and our communities.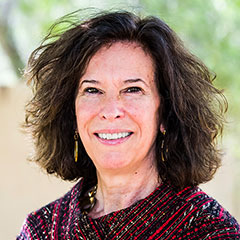 Sybil Francis, Ph.D., President & CEO
We often hear the old adage that in challenge there is opportunity. In crises our minds are opened to new thinking and new ways of doing things once thought impossible or too bold to imagine. Telemedicine, online learning extended to K-12, paid sick leave are just a few examples of changes made virtually overnight. The future is being created now.
CFA's mission of bringing people together to build a bright future for our state is more important than ever. Now is the time to be readying ourselves for the future even as we address the immediate needs caused by COVID-19. Bringing trusted data to problem-solving, empowering partners and organizations to address their needs, and advancing new ways of tackling big challenges are what we do every day and will continue to do.
CFA – as we have before – will be turning to Arizonans to capture their views on lessons learned from this pandemic. We will field a new statewide Gallup poll in the fall, the second such poll in ten years, to find out what Arizonans believe are the most important issues for our future. We will share the findings broadly as we drive an action agenda around the results.
The new thinking we employ today and the once impossible solutions that have become routine are the first steps to building a brighter future for Arizona.
Arizonans are coming together to get through this crisis. Thank you for your part in helping Arizona through these challenging times. CFA will be a steady and committed partner in working to make our future bright.


Sybil Francis, Ph.D.
President & CEO
Center for the Future of Arizona