Phoenix Business Journal:
Thousands of new data points to help direct Arizona's future on jobs, economy and more
Posted on June 12, 2020 • Category: Story
By Angela Gonzales – Senior Reporter, Phoenix Business Journal

Sybil Francis, president and CEO of the Center for the Future of Arizona, has been busy beefing up the nonprofit's progress meter portfolio.
The Arizona We Want Progress Meters now provides more than 144,000 data points for all 15 counties across the state, and all the data are now downloadable.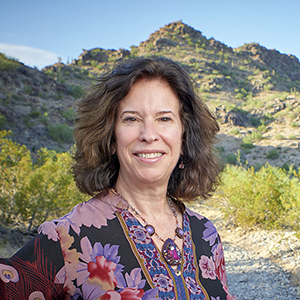 Sybil Francis, president and CEO of the Center for the Future of Arizona.
This robust set of information is now available to support fact-based decision making connected to big-issue areas impacting the lives of Arizonans. The information targets jobs, education, health and well-being, natural resources, infrastructure, civic participation and connected communities. Later this year, a new area called young talent will be unveiled.
"We are now able to de-segregate by region of the state as well as by ethnic background," said Francis, who is married to Arizona State University President Michael Crow. The two have been considered one of the state's power couples.
Francis was named president and CEO of the nonprofit in July 2018, succeeding Lattie Coor, who founded CFA in 2002 after retiring as ASU president.
Ten years ago, CFA conducted a statewide poll asking Arizonans to identify what matters most to the state's future.
Since that time, Francis and her team have been developing progress meters to measure those issues.
"As we speak, we're preparing to launch a new Gallup poll this fall," she said. "We're excited to learn from Arizonans — in light of recent events — what is high on their agenda. It's not just a daily temperature on day-to-day basics but what's important to Arizona's long-term future and success."
The data is culled from trusted sources and updated as these sources update, she said.
For example, the progress meter tracks data from the Federal Communications Commission, which shows 61% of rural communities in Arizona do not have access to the internet, Francis said.
Looking at data from the Arizona Department of Water Resources, Phoenix Active Management Area residential users have seen an increase of water use, with 149.5 gallons per day in 2018 versus 143 in 2010.
Comparing graduation rates across the state, Maricopa County's 2018 graduation rate of 84% is below several other Arizona counties, including Graham and Greenlee counties, which graduate more than 90% of their high school students in four years.
Data points like this can raise awareness, start critical conversations and begin making change, Francis said.
"Our mission at the Center for the Future of Arizona is to bring Arizona together to create a bright future for our state," she said. "Any person can go to our web site and start looking at the data. I promise you, it will stimulate thinking about Arizona and the kinds of issues we need to address and start thinking about solutions."