Arizona's Beat the Odds principal training program proves "leadership matters"
Posted on May 18, 2021 • Category: Story
By Victoria Harker – Author, Chamber Business News

Arizona is doubling its investment in a proven program that trains public school principals "to be great" — the Beat the Odds Leadership Academy (BTO Academy).
Governor Doug Ducey recently announced the investment of $700,000 for the program to help reverse the brain drain that has occurred, particularly among low-income students, during the Covid-19 disruptions. 
Led by the nonprofit Center for the Future of Arizona (CFA), the BTO Academy provides principals and school system leaders with executive leadership training to improve the quality of their schools and their students' outcomes. 
The program is proof that leadership really does matter, said Sybil Francis, president and CEO of CFA. 
Previous research studies have found that principals account for approximately 25 percent of a school's total impact on student achievement. Now, new research reveals that principals are even much more important than previously thought when it comes to student and teacher outcomes. 
"Of the many factors necessary to increase educational attainment in our state, ensuring we have great schools is foundational, which requires strong principals and qualified teachers," Francis said. 
Emphasis on rural, tribal, underperforming schools this year 
CFA plans to use the money to further expand access to the BTO Academy for public school leaders who are recovering from the most challenging year in academic history, Francis said. 
This year, there will be more emphasis on equity and making the program available in rural, tribal, small districts and underperforming schools through a hybrid of virtual and in-person training. 
New research shows just how important principals are 
Major research commissioned by the nonprofit Wallace Foundation finds that the impact of effective principals is even larger than previously reported. 
In its new report, "How Principals Affect Students and Schools: A Systematic Synthesis of Two Decades of Research," reveals that investments in principal training produce a big payout in learning and other outcomes. 
To gauge the impact of principals on student learning, the researchers examined six studies that followed the same schools and principals over multiple years by using district and state longitudinal data available only in the last decade or so. The studies showed that principals' contributions to student achievement were nearly as large as the average effects of teachers identified in similar studies – but larger in scope because effects are averaged over an entire school rather than a classroom. 
Among the benefits were improved student learning and attendance, reduction in exclusionary discipline, and teacher satisfaction and retention, particularly for high-performing teachers.
The study revealed that by replacing a below-average elementary school principal at the 25th percentile of effectiveness with an above-average principal at the 75th percentile, it would result in an additional 2.9 months of math learning and 2.7 months of reading learning each year.
Effective principals have three key traits
The report also delved into three traits that effective principals display: people skills, instructional skills and organizational skills.
The researchers emphasized, however, that principal and teacher effects on student learning cannot be separated. Part of the impact of an effective principal is to make it more likely a student will have an effective teacher.
Academy success in Arizona
As of this week, the academy has trained more than 30 nationally certified BTO Academy trainers, trained more than 345 school leaders across 52 public school districts and charter networks in eight counties, impacting more than 130,000 students. 
Among the districts currently benefiting from the program are:
In Kingman, the BTO Academy is supporting Kingman Unified School District in training all 25 of their school principals and district leaders in the research-based National Institute for School Leadership curriculum as part of a districtwide strategic effort to improve student achievement for all 7,000 students in the district.
In Yavapai County, CFA worked with the Yavapai County Education Service Agency in a unique countywide partnership to sponsor two BTO cohorts that support principals, district leaders, and aspiring leaders from eight different school districts with research-based professional development to support more effective teaching and learning.
The Flagstaff Unified School District partnered with CFA to offer the BTO training and executive coaching to principals, supporting over 11,000 students.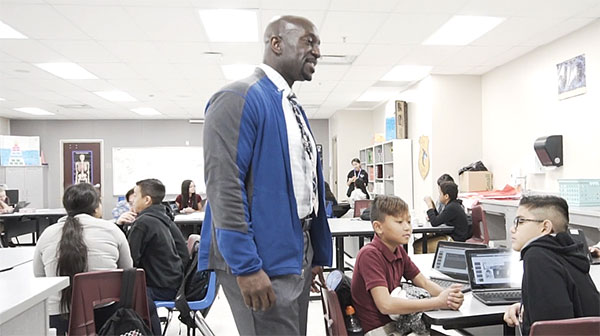 Eric Atuahene, Principal, Littleton Elementary STEM Academy
Principals across the state report the program is working. Principals like Eric Atuahene, in the Littleton Elementary School District in the southwest part of metro Phoenix, credits the BTO Academy with his school's growth from the lowest-performing to the highest-performing in his district. BTO Academy helped him "become a leader of leaders," he said.  
Public-private investment made BTO a reality 
CFA launched the BTO Academy in 2017 with public-private investment support from Governor Ducey, Helios Education Foundation and the Burton Family Foundation. To read more about the academy, visit: Beat the Odds Leadership Academy.