Innovative civics program to be honored with President's Medal for Social Embeddednes
School Participatory Budgeting empowers thousands of students to practice democracy
Posted on September 29, 2021 • Category: Story
By ASU News
A civics education program engaging K–12 students as key decision-makers in the Arizona K–12 schools' budgeting processes will be honored in October with the Arizona State University President's Medal for Social Embeddedness.
ASU President Michael Crow will present the award Oct. 26 to ASU's Participatory Governance Initiative, based at the School of Public Affairs, and the statewide nonprofit organization the Center for the Future of Arizona for their work with K–12 schools in implementing School Participatory Budgeting (School PB).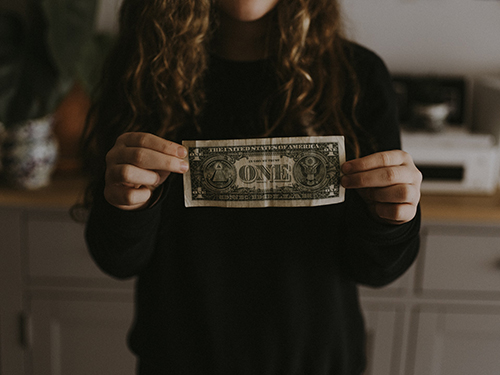 Photo by Annie Spratt/Unsplash
As School PB engages K–12 students in deliberation and decision-making processes concerning school budgets, the initiative also nurtures collaboration, problem-solving skills and critical thinking. School PB in Arizona empowers historically underrepresented students and communities, with the majority of participating schools receiving federal funding under Title I of the Elementary and Secondary Education Act.
The Center for the Future of Arizona (CFA) and the Participatory Governance Initiative (PGI) play a key role in supporting School PB processes and conducting evaluations. The core team is formed by Daniel Schugurensky, founding director of the PGI and School of Public Affairs professor; Tara Bartlett, PhD student in educational policy and evaluation; Madison Rock, CFA senior program coordinator for civic health initiatives and graduate student in the School of Public Affairs; and Kristi Tate, CFA director of civic health initiatives. The School of Public Affairs is part of the Watts College of Public Service and Community Solutions.
"Civic education gives K–12 students the knowledge and skills needed to become active participants in their communities," Watts College interim Dean Cynthia Lietz said. "Through School Participatory Budgeting, our School of Public Affairs offers thousands of young people the opportunity to learn how to become informed, active participants in society. Community-embedded programs like these are consistent with the mission of Watts College and ASU's charter. Congratulations to PGI and CFA for being chosen to receive this well-deserved recognition."
Tate said, "We know our state's success depends on the talent, voices and contributions of this generation of rising civic leaders. School Participatory Budgeting is a powerful tool for equipping, engaging and empowering young people to solve problems in their communities today while preparing them to be active civic participants for the long term."
School PB has its roots in a process called participatory budgeting used by thousands of municipal governments around the world to plan and finance community projects. School PB is also implemented in a range of nations, including Argentina, Brazil, Canada, Colombia, Czech Republic, Italy, Mexico, Peru, Portugal, Russia, South Korea, Spain and the United States. Often used in high schools, School PB is also taught in elementary and middle schools.
The first School PB process in Arizona took place in 2013 at Bioscience High School in Phoenix Union High School District. In 2016, Phoenix Union launched the first-in-the-nation pilot of School PB with district-level funds in partnership with CFA, PGI and the national nonprofit Participatory Budgeting Project. Since then, School PB has expanded to 47 schools in several cities, including Phoenix, Tucson, Chandler, Queen Creek, Mesa and Tempe, and is currently involving over 63,000 students every year.
Rock said more than 5,000 new Arizona voters have been registered through School PB Vote Days.
Bartlett said civics education is often not funded as fully as other parts of school curricula.
"The program encourages the importance of civics education at a time when only 5 cents of a typical state education budget go to teach each public school student civics, compared to approximately $54 to teach each student in what are known as STEM courses (science, technology, engineering and mathematics)," she said.
This comparison tends to be even greater among historically marginalized communities, Bartlett said.
"High-quality civics education is often a matter of equitable access."
Schugurensky said that in School PB students learn democracy by doing. In establishing priorities and allocating actual resources to improve their school communities through a process of deliberation and decision-making, students learn research and financial skills and at the same time develop a variety of knowledge, attitudes and practices.
"Research shows that children and youth who participate in these processes are more likely to become active participants in civic life as adults," he said.
Students create ideas, write proposals, vote on them
In the School PB process, students form a student steering committee whose members fan out on their campuses to gather hundreds (sometimes thousands) of ideas from classmates about what their school needs and what it might take to fulfill those needs. The ideas are researched to decide how feasible they may be.
"Then the committee meets with administrators and stakeholders to transform those ideas into feasible project proposals," Rock said. "They identify who are the vendors for the project, are they district-approved or do they need competitive bids?"
Then a final list of proposals is prepared and sent to a ballot in a campus election where students decide which one should receive funding. Finally, students decide how the proposal with the most votes should be implemented and write an evaluation process to gauge how well it will work over time.
Students who are eligible to vote in actual federal and state elections are given the opportunity to register in the next one at School PB Vote Days through community partnerships with the Maricopa County Recorder's Office and local voter registration groups.
"Students have multiple opportunities to engage with the process in different ways depending on their interest and time availability. In typical in-person Vote Days, the voter turnout in School PB averaged approximately 84%; this is much higher than municipal elections, which is about 25%, with significantly lower rates among young voters," Schugurensky said.
Partnerships to help students with disabilities participate
In recent School PB cycles, the CFA and the PGI have partnered with the Arizona Developmental Disabilities Planning Council to pilot and evaluate inclusive approaches to the model in which students with disabilities are engaged in every aspect of the process. Working with Carson Junior High School in Mesa and two high schools in Tucson's Sunnyside Unified School District, the two-year project has demonstrated significant potential to increase self-advocacy of students with disabilities while also building a more inclusive and connected school community.
Educators and students told the center and initiative how much the School PB experience meant to them.
Darrell McRae, a social studies teacher at Carson Junior High School, said students there felt empowered, especially the seventh graders.
"There was also great and supportive interaction between the students with disabilities and the general population," McRae said.
Melissa Groff, a Carson social studies teacher, said, "I saw students develop stronger social skills and form friendships with others outside of their normal friend groups."
"It's not only an investment in the school," said Holly Batsell, principal of Bioscience High School in downtown Phoenix, "but an investment in our students' critical thinking, communication, problem-solving abilities and their buy-in and ownership of the school." 
Student comments gathered by the team were also enthusiastic and appreciative:
"It's made me think about being a citizen, and so working with other people and getting their ideas really expands my mindset."  
"I learned to have more courage and self-confidence." 
"Seeing everybody come together and participate in this one thing that is going to benefit them and our school as a whole was exciting to see."
"I learned to advocate for myself because I knew I had a good idea."
"When the students as a whole decide on what the school gets to be or what it gets to have, it's much more empowering to the student. It's like they have control over what environment they are raised in."
"This was the first time I was given a chance to make a difference." 
Schugurensky said he and his colleagues are "really honored and humbled to work with so many talented school leaders, educators and students," all of whom significantly contributed to the recognition that comes with the award.
"It's not just us (at PGI and CFA), but all the partners, all the school districts, individual schools, school leaders, teachers, students, staff and parents involved in this process," he said. "It's a collective endeavor. We see ourselves as part of a collective process. Paraphrasing and reframing the African proverb, it takes a village to raise an informed, critical, caring and engaged citizen."
Rock agreed.
"The President's Medal for Social Embeddedness is a symbol of meaningful collaboration with community, and this recognition is a testament to the impact we've been able to create hand in hand with our partners who deliver this model to students on a day-to-day basis," she said.
Schugurensky said many students who get involved in School PB tell him they plan to become more active in civic and political life after graduating high school.
Other Watts College honors
The School of Social Work, also in the Watts College of Public Service and Community Solutions, is being honored with a 2021 President's Medal for Social Embeddedness for providing social services to residents of the 85705 ZIP Code in Tucson through the "Thrive in the 05" initiative. Its medal will also be presented at the Oct. 26 ceremony.
The Watts College also recently received these honors from Crow:
The ASU Law and Behavioral Science Initiative, a collaboration of five ASU academic units including the School of Social Work and the School of Criminology and Criminal Justice, received a President's Award for Innovation in 2020. Scholars and students from several ASU disciplines, including Watts College Professor Jose Ashford of the School of Social Work and Professor Hank Fradella of the School of Criminology and Criminal Justice, gathered to conduct front-line research in psychology and law, including helping create a new field at ASU, forensic psychology.
The School of Social Work-based Survivor Link received a President's Medal for Social Embeddedness in 2020. Survivor Link, administered by the Office of Gender-Based Violence and Director Jill Messing, is an ASU partnership with AmeriCorps that takes a multifaceted approach to stop domestic violence by training students and volunteers to directly help survivors, by aiding organizations that also help survivors and by working toward domestic violence prevention in communities. 
Read story at ASU News >