George Dean
President and CEO, Greater Phoenix Urban League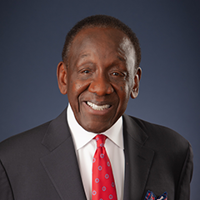 George Dean
President and CEO, Greater Phoenix Urban League
George Dean has been the President and Chief Executive Officer of the Greater Phoenix Urban League since mid 1992. He is a former CEO of the Sacramento, California and Omaha, Nebraska affiliates, and has served more than 25 years as an Urban League staff member. In February of 2013, he was appointed Western Regional Vice President of the NUL Association of Executives (AOE).
Mr. Dean has diligently and impressively brought a troubled affiliate back to community responsiveness, valley-wide visibility, and sound fiscal accountability. His leadership focuses on advocacy toward issues affecting the African American and minority community: education, training, job placement, housing and economic development.
Community involvement for George Dean includes:
ASU Minority Advisory Council, Member
ASU College of Education, Dean's Associate Member
Phoenix Violence Prevention Initiative, Steering Committee Member
Cox Communications Charities, Member of the Board
Phoenix School of Law (Arizona Summit Law School), Board Member
Greenlining Institute, Founder and Co – Chair
Greater Phoenix Convention & Visitors Bureau, Chairman
Center for the Future of Arizona, Board Member
Past - KAET-Channel 8 – Community Advisory Board Member
Past -Valley of the Sun Communities in Schools, Member of the Board
Past - Maricopa Community College District Board, Advisory Comm. Member
Past - St. Joseph's Hospital, Board Member
Past - Barrow's Neurological Foundation, Member of the Board
Past – Cox Communications Community Advisory, Board Member
Past Affiliations of Mr. Dean are President of the California Council of Urban Leagues, member of the Boards of Directors of Los Rios Community College District Foundation, the Robert J. Matthews Foundation, KVIE Television – PBS, the Sacramento Symphony and Metropolitan Chamber of Commerce.
Honors: Mr. Dean was presented with an Honorary Law Degree from Arizona Summit Law School in May 2013 and the Victoria Foundation established the George H. Dean Scholarship for undergraduates and graduates within the Mel & Enid Zuckerman College of Public Health at the University of Arizona in December 2014.
Mr. Dean holds a Bachelor of Science degree in Sociology from Arizona State University and Graduate Studies in the School of Industrial and Labor Relations, Cornell University.