Help us create a stronger and brighter future for Arizona.
We are passionate about moving Arizona forward and focused on issues that are critical to our state. Join us in bringing Arizonans together to create a stronger and brighter future for our state.
CFA offers a comprehensive benefits package at very competitive rates to enhance the total compensation of our staff. This package includes low-cost health and life benefits to insure you and your family, a wellness program for preventative health education and screenings, a disability and leaves program for income protection, employee assistance for free and confidential behavioral health services, reduced tuition for you and your dependents through the state universities, disability resources for Americans with Disabilities (ADA) and a retirement program designed to promote long-term savings and provide income upon retirement. In addition, CFA provides holiday, vacation and sick leave plans to help you balance personal and work commitments.
CFA promotes equal opportunity in employment and its programs through affirmative action. Discrimination is prohibited on the basis of race, color, religion, national origin, citizenship, sex, sexual orientation, gender identity/expression, pregnancy, age, disability and protected veteran status, or any other characteristic prohibited by law. Equity is one of CFA's stated values and CFA works to advance collective cultural competence and apply equitable practices.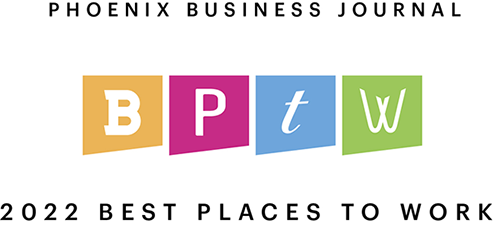 We are thrilled that Center for the Future of Arizona is a finalist for Phoenix Business Journal's 2022 Best Places to Work! It's critically important that CFA provides positive space and place for teams to thrive. Without a passionate and committed staff, our vital mission of uniting Arizonans to build a stronger and brighter future for our state would not be possible. See the complete list of this year's finalists.
---
We currently have no job openings, please check again for future employment opportunities.
---