Lisa S. Loo
Office of General Counsel, Arizona State University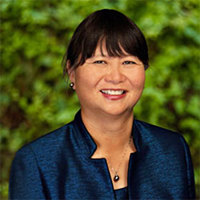 Lisa S. Loo
Office of General Counsel, Arizona State University
Lisa S. Loo, as Senior Vice President & General Counsel and ASU Representative to Affiliated Entities at Arizona State University, focuses on special projects and initiatives, commercial transactions, procurement, real estate and immigration matters.
Prior to joining Arizona State University in 1993, Lisa was in private practice for eight years.  Lisa is an elected member of the American Law institute. She served on the Executive Council of the National Conference of Bar Presidents from 2017-2020.  She served as president of the State Bar of Arizona from 2016-17.  The State Bar of Arizona recognized Lisa in 2008 for Outstanding Achievement in Advancing Equal Opportunity in the Profession and, as the 1993 Outstanding Young Lawyer.  Lisa is a founding board member of the Arizona Asian American Bar Association.  
She obtained her law degree from the University of Virginia in 1985 and her undergraduate degree from Fordham University in 1982.