Ronald E. Shoopman
Southern Arizona Leadership Council, Director of Special Projects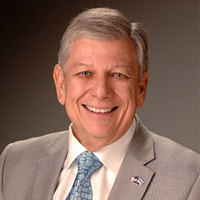 Ronald E. Shoopman
Southern Arizona Leadership Council, Director of Special Projects
Ron Shoopman currently serves as the Director of Special Projects for the Southern Arizona Leadership Council (SALC). He led SALC as President and CEO from 2005 until 2019 when he stepped down to fulfill his duties as chairman of the of Arizona Board of Regents.
Ron was appointed to the Arizona Board of Regents by Governor Jan Brewer in March 2014, concluding his eight-year appointment in June of 2022. He served on the ABOR Executive Committee during his final four years leading a statewide effort to improve educational attainment in Arizona and to improve access to a college education for all Arizona students.
His ongoing commitment to the Tucson community and state of Arizona includes service on multiple boards including the Center for the Future of Arizona, the Campus Research Corporation, and the University of Arizona College of Science Board. He is chair of the MAP Dashboard Advisory Board and he is a member and past Chair of the Arizona Bioscience Roadmap Steering Committee.
A native of Arizona, Ron has been recognized with multiple awards, including the William F. McWhorter Community Service Leader of the Year, Tucson Father of the Year, and the Greater Tucson Leadership 2019 Founders Award for his lifetime of service.
General Shoopman is a former wing commander of the 162nd Fighter Wing where commanded the International F-16 Training Wing for the United States Air Force. Ron's civilian experience includes 7 years with Gates Learjet Corporation as a marketing manager, a pilot for Continental Airlines and an instructor pilot and manager for Flight Safety International. He received professional military education at the USAF Air War College and the Air Command and Staff College.  He received his BS degree from Arizona State University in Aeronautical Technology.