Cindy Erwin
Director, College & Career Pathways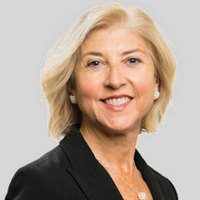 Cindy Erwin
Director, College & Career Pathways
Cindy Erwin joined the Center for the Future of Arizona in 2018 as the Director for College and Career Pathways. Cindy is responsible for working with  education and industry partners to ensure that many more young people complete high school and earn a postsecondary credential with labor market value, launching them into initial careers while ensuring that they have the foundation necessary for further education.
Cindy has over 25 years of experience in educational leadership, learning and development, strategic design and organizational transformation in both the public and private sectors. Cindy's roles in education have included serving students and communities as a teacher, as the planning and first principal of Williams Field High School in the Higley Unified School District, and as an administrator with AAEC Early College High School in both the Paradise Valley and South Mountain communities. Additionally, Cindy worked with the Maricopa County Community College District in a leadership role within their Corporate College. In all these roles, Cindy helped define the strategic direction of the organization while keeping the student/learner at the center of the mission of the organization.
After teaching and prior to her school leader roles, Cindy spent several years in the private sector working with Fortune 500 companies such as Eli Lilly and Company and Johnson Controls as well as high-tech startups where she was involved in systems re-engineering and new business launch initiatives. Cindy earned both Bachelor's and Master's degrees from Purdue University.
How is CFA's work important to you?
I have spent the majority of my career in education. Education and kids have always been super important to me. In particular, providing opportunities for young people who don't have those opportunities afforded to them is a personal mission. I think the work that I do at CFA with Pathways to Prosperity is helping young people see opportunities for themselves and really envision themselves in a prosperous adulthood.
What do you love about Arizona?
I love the outdoors. I have always been attracted to wide open spaces. I love the expanse and being able to see miles and miles. I love that about the desert and the landscape. I don't like places with a lot of trees.
What's your story? What was your path to CFA?
I grew up in the northwest corner of Indiana. My dad was a steel worker for 45 years. My mom was a stay-at-home mom. I went to Purdue University and got my bachelor's  and master's there. I spent some time in Texas right after I graduated with my master's degree in education. I also worked in Indiana with Eli Lilly for a while. I was also a high school principal for a number of years. About 14 years ago, I had the opportunity to come out to Arizona as a school principal in a very quick and fast-growing district. I also did some work with startups because I like innovation. I like the challenge of doing something new that pushes boundaries. When I came to CFA, it married my education background, my business background, and my strong interest in innovation.
How does your work impact CFA?
The Pathways to Prosperity work is integral to supports CFA's priorities. The work we do in education is critical to advancing the state. I don't think any state or country can be prosperous without providing quality education to its citizens. The work we are doing here to shift some paradigms about how to provide quality education and how to provide quality career connected education for students is critical work for personal prosperity, for our citizens, and underserved populations.
When did you first consider Arizona home to you?
I have essentially lived in three different states. I've been living in Arizona for the last fourteen years. It is home to me because this is where my family is now. I've contributed to several organizations and hopefully lots of people's lives here.
How do you hope to impact Arizona through your work at CFA?
I would like to see more young people truly have the opportunity to move into careers that will make an economic difference for them. A career that they can enjoy and be happy about and become proud contributing members of their own communities. If we can do that, then that improves economic prosperity for the state and enables Arizona to keep businesses here and attract new business. I think about the vast number of kids who don't have a direction and don't have a vision of what they can do as adults. If we can really capture students when they are in school and keep them on a path to post-secondary and get them into a job, we will decrease the number of opportunity youth in Arizona.