Deja Broughton
Coordinator, Operations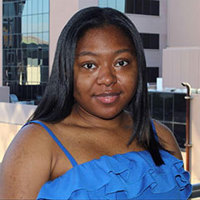 Deja Broughton
Coordinator, Operations
Born and raised in Georgia, Deja Broughton came to Arizona to pursue higher education, where she grew to love Arizona and developed a passion for helping people in the community.  
Before joining Center for the Future of Arizona as the Coordinator of Operations in 2022, she served as social media manager for the State of Black Arizona. Her professional experience includes administrative support, digital media, marketing, and event planning.  
Deja earned her Bachelor's degree in Mass Communication and Media Studies with a minor in Digital Audiences from Arizona State University in 2021.