Esmeralda Franco
Senior Aide to the President & CEO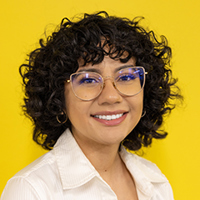 Esmeralda Franco
Senior Aide to the President & CEO
Esmeralda Franco was born and raised in Phoenix, Arizona and has devoted her life to improving the lives of Arizonans like herself. She has worked on multiple non-profit/political campaigns both at the local and national levels creating and supporting programs that help engage underserved communities. These campaigns have made it possible for women, domestic workers, and people of color to find access to financial, career, and political resources.
Esmeralda graduated from Arizona State University (ASU) with a degree in Transborder Chicana/o and Latina/o studies in 2023. This degree has helped her build strong connections to the communities in Arizona. During her time at ASU, Esmeralda supported multiple parts of the institution under Social Embeddedness and Executive Administration by connecting communities to ASU resources. She is excited to use this experience to support the CFA mission and give back to the place she calls home.
One of her favorite parts of living in Phoenix has been exploring the different cultures and meeting all kinds of people from all sorts of backgrounds. She spends most of her time exploring and eating ice cream with her dog Zoloft.