Evelyn Casuga
Director, Community & Economic Prosperity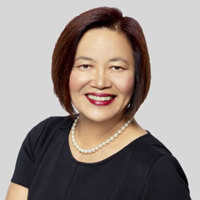 Evelyn Casuga
Director, Community & Economic Prosperity
Evelyn has over 30 years of experience in economic and community development, leadership, and civic engagement. After 25 years, Evelyn retired in December 2014 as General Manager of Community Affairs at APS, the largest and longest serving investor-owned utility covering 11 of 15 counties in Arizona. Her area encompassed community relations, corporate contributions and volunteer programs, economic development, and strategic partnerships. She served in numerous leadership positions during her tenure at the company. Previous to APS, her roles included nearly 10 years in municipal government serving as City Manager of Eloy and Town Manager of Marana; and Manager of Community/Client Development for the Western Gateway Team, an Arizona regional economic development group, serving five West Valley communities.
Evelyn is a Certified Economic Developer (CEcD) and serves on several statewide and regional non-profit boards. She has been recognized for her efforts in community service and economic development. Evelyn received her Masters of City and Regional Planning from the University of California, Berkeley and her undergraduate degree from the University of California, Santa Cruz.
How is CFA's work important to you?
Community has always been at the core of the things I have chosen to do, both professionally and personally. JFK's philosophy of "ask not what your country can do for you, ask what you can do for your country" has been a big driver in my life. Growing up, my mom and dad, as Filipino immigrants, provided a nurturing environment for the community by helping fellow Filipinos get their citizenship, do their taxes, and be good citizens. My parents helped build the first community swimming pool in our small rural California town. Those things have greatly influenced the things I have chosen to do and working with CFA is a fulfilling extension for this passion.
What do you love about Arizona?
I get to go to all these cool places in Arizona. The landscapes are stunning and the communities all have their own charm. Diversity, geography, demographics and community activities that happen in Arizona are a lot to celebrate. It's an enjoyable place to live and work.
What's your story? What was your path to CFA?
I had the privilege of being schooled in world class universities. I received my undergraduate degree in community studies and psychology. That was the only community-based major at the university I attended back in the 70s. I then received a graduate degree in city and regional planning. I worked for five years between college and graduate school, back in the community where I grew up. I started at a community-based social service non-profit for a while, then I shifted to city government. When the city administrator decided to leave for graduate school, the City Council made me the acting city manager at the ripe old age of 26. After I left graduate school with a degree in city planning, I was hired by my former city manager and came to Arizona. I worked for the City of Eloy for 5 years, including two years as City Manager, then I moved on to a job with a regional economic development group in the West Valley of the Phoenix area. As the real estate debacle of the late 80's erupted, I went back into local government with the Town of Marana for two years. Unexpectedly, I got an offer from and accepted a role with Arizona Public Service (APS) to serve as a community development consultant, working all over the state of Arizona. Eventually I became the first female, certainly first female of color, to take on a division manager position for the company. I retired from APS in 2014 and worked for a couple non-profits. I ran into Dr. Lattie Coor in Phoenix, who I had met several times over many years. He asked me what I was doing right now and offered me a consulting role with CFA working with communities which I eagerly accepted.
How does your work impact CFA?
I have been able to connect CFA with communities of interest. Presenting and exploring how Progress Meters and community conversations can be part of local decision making. The relationship to processes within communities is a niche I bring to the table. I have the privilege of playing in everybody's sandbox at CFA.
When did you first consider Arizona home to you?
I thought when I first moved to Arizona that I would work for two years, then go back to California. But my boss promoted me and I decided to stick around. About the third or fourth year in Arizona, it started to feel like home. It is small enough that no matter to what degree you chose to be involved, you can make a difference. You can do something here if you choose to in a positive way.
How do you hope to impact Arizona through your work at CFA?
I want to see Arizona create places and spaces to have honest conversations about community and to constructively deal with issues of importance to the state. As an example, if portions of the Arizona Progress Meters become a tool for strategic decision-making and measuring success in our communities that would be step forward. This touches many areas of CFA's work. Hopefully, by engaging with communities, I can continue to lend my efforts in this way.