Heather Thornton
Director, Strategic Marketing & Communications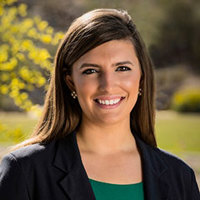 Heather Thornton
Director, Strategic Marketing & Communications
Heather Thornton brings dynamic professional experience in developing and implementing internal and external strategic branding and communications to Center for the Future of Arizona. Her experience spans complex organizations across corporate and social sectors, including Fortune 100 companies, and in-house and consulting agency capacities. She balances creative and critical thinking to help clients and teams harness the power of communications, PR, and marketing to support organizational goals and brand reputation.
After completing undergraduate studies and working for global firms and brands in New York City, Heather relocated to her hometown of Phoenix in 2012. Since then, she gained nonprofit experience and homed in on purposeful work aligned with her values around equity and gender parity, community development, and environmental sustainability. 
Noticing the stark revitalization efforts in progress and seeing the people, diversity, and culture anew upon returning to Arizona, Heather became engaged and passionate about the continued advancement and development of the state. She believes the geography and resources paired with the state's independent and innovative characteristics (among many other attributes) offer the infinite potential to be a leading model for positive change at national and global levels.
Heather holds a bachelor's degree in Arts Administration, with minors in Marketing and French Studies from Wagner College. She is curious and strives to embrace lifelong learning. Since her formal education, Heather completed Demand Creation and Marketing Foundations certificates through Forrester & SiriusDecisions Research and is an active member of Public Relations Society of America (PRSA), American Marketing Association (AMA), and International Association of Business Communicators (IABC). She also serves as as VP of Finance & Secretary on the IABC Phoenix board of directors.