Holly Kurtz
Director, Workforce Development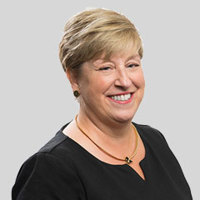 Holly Kurtz
Director, Workforce Development
Holly Kurtz joined the Center for the Future of Arizona in October 2016 and is the Director of Workforce Development with accountability for the Retail Career Pathways Sector Initiative and College and Career Pathways. 
Previously, Kurtz was the Vice-President of Talent Management at PetSmart, a pet specialty retailer headquartered in Phoenix, AZ. Kurtz joined PetSmart in 2008 and was accountable for talent acquisition, talent management, internal communications, learning & development, leadership development and organizational development. Prior to PetSmart, Kurtz was with Wells Fargo & Company for 28 years in various Corporate HR and business HR leadership roles. Holly is from Minnesota and attended the University of Minnesota majoring in Technical Communications.
How is CFA's work important to you?
The mission of CFA speaks to things that are important in my life: education, civic engagement, workforce development, and making Arizona a place to thrive and grow. I'm not a native. I'm from Minnesota. I've lived in Arizona for 18 years.  My daughters and grandkids are here so they are all Arizonans, so I care about what happens here.
What do you love about Arizona?
I love the geography. I love the desert, I love the mountains, I love hiking. I love how outdoor focused it is. No snow! I also like that Phoenix is a small big town. Meaning it is a big city but has a very small feel. You can connect with people and find people that have similar goals and aspirations and values. I was easy to move here and integrate as an Arizonan.
What's your story? What was your path to CFA?
This is my first time working in a nonprofit organization. I had always known that as I built my career in corporate America that the last arc of my career would be working in a nonprofit organization that leveraged my skills and experiences, and spoke to my passions and interests. Primarily my career has been in Human Resources, 28 years with Wells Fargo and eight years with PetSmart. I came to CFA to launch and head the retail sector initiative. I have been able to leverage my skills and experiences in HR and retail.
How does your work impact CFA?
Talent matters. Talent is important to fuel the economy and for organizations to thrive. We need talent for companies and for companies to grow. My work impacts what matters to Arizonans because it starts with people and talent. By impacting that, we're making a difference for Arizonans.
When did you first consider Arizona home to you?
It's only been in the last five years - even though I've been here 18 years. It took a while for me to stop saying "I'm going home" when I visited Minnesota and instead say now "I'm going home" when I travel back to Arizona.  Especially once I had grandchildren (5 – ages 1 year to 12 years old) living and growing up in Arizona that changed.
How do you hope to impact Arizona through your work at CFA?
I want to see Arizona be an attractive and vibrant place for people to build their careers and raise their families and not have to move out of state for opportunities.