Ian Dowdy, AICP, MBA
Director, Strategic Data Initiatives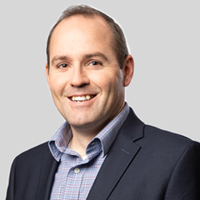 Ian Dowdy, AICP, MBA
Director, Strategic Data Initiatives
Ian Dowdy currently serves as the Director of Strategic Data Initiatives for CFA and is a certified urban planner with a diverse background working in the public sector, performing master planning and land entitlements in the private sector, and has spent the last eight years of his career in public policy surrounding conservation and sustainable economic development in the non-profit arena. In his previous position with the Sonoran Institute, Ian led the Sustainable Landscapes and Communities team that focused on improving the quality-of-life, economy, and environment of the Sun Corridor megapolitan region of Arizona which includes Phoenix, Tucson and Prescott.
As an avid hiker, backpacker, and occasional angler, Ian has explored Arizona's out-of-the-way places and is passionate about conserving resources for future generations. Recently Ian has served on various boards and commissions including the Central Arizona Conservation Alliance Steering Committee, the City of Peoria Quality of Life Commission, the Arizona Alliance for Livable Communities Steering Committee, the White Tank Mountains Conservancy Governing Board, and the Faith House Domestic Violence Shelter Advisory Committee.
Ian was honored with the 2020 Community Practitioner Award from the ASU School of Geographical Sciences and Planning.
How is CFA's work important to you?
CFA is doing great work in a lot of areas, but why I think it's important is that it provides a broad and independent holistic set of tools that address the challenges of our state. Defined by Arizonans' priorities and their broad agenda, we can be holistic and help communities identify their challenges before introducing possible solutions. In our ongoing work with The Arizona We Want; we will define our state's agenda of key priorities. Nobody else can do that.
What do you love about Arizona?
The diversity of its people and the diversity of its landscapes. It's amazing that you can go two hours from our Sonoran Desert in Arizona and get to tundra on Mt. Humphrey's, the great forests of ponderosa pine around Flagstaff, and even the Sky Islands in southeastern Arizona. It's an incredible state that has so much opportunity.
What's your story? What was your path to CFA?
I'm an urban planner. I've been planning since I graduated from Arizona State University in 2004. I would have never dreamed that being a planner could open up so many different opportunities to work in so many different arenas. My path has gone from something more focused to something  and overarching over the course of my career. Though my career path began in the public sector with a nice foundation of growth and development regulation, I quickly came to realize that people and communities are connected very closely to the environment as they rely on natural resources to support urban living. Over the past ten years, I have been given the opportunity to connect the environment and the community through work in the non-profit sector. At CFA, I can integrate all of this into tools and resources that support a holistic vision of the state and empower local decision-making to address our challenges.
How does your work impact CFA?
My work impacts the organization in three main ways. First, it allows us to measure our work and our impact statewide and in local communities. Second, my work allows partners in communities to align themselves with a common agenda and to work together to identify priorities and track progress as they implement solutions. Third, it allows us to break down silos surrounding key topics in recognizing connections between them. I believe the real solutions to our big challenges often involve bridging across topics, building more effective coalitions, and finding broader impact.
When did you first consider Arizona home to you?
Like two thirds of Arizonans, I came from somewhere else. I was born in Montana and moved when I was 9 years old. Coming from Missoula to Maryvale in West Phoenix, it was a different community demographically and geographically but I learned quickly to embrace diversity and to feel at home.
How do you hope to impact Arizona through your work at CFA?
From my experience working in planning and environmental issues, it's hard to motivate the leadership you need to catalyze action without the support of solid facts. I believe the Progress Meters and our other tools allow communities to rally around a few key priorities and require progress to me made, in-part because they are being measured. I'd like to see key metrics in all our Progress Meters move in a positive direction over the next 5 to 10 years and see communities empowered to address their challenges.