Jessi Black
Manager, Business Operations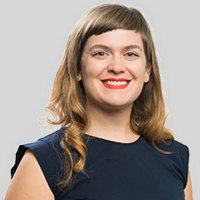 Jessi Black
Manager, Business Operations
Jessi Black supports the operations department. Jessi joined CFA in 2017 with eleven years of professional experience as an arts administrator and a strong background in volunteerism. As both an employee and a citizen, she is dedicated to improving communities and lives.
Before joining CFA, Jessi served as the Engagement Manager at Phoenix Center for the Arts, coordinating arts engagements with schools, nonprofits, senior centers, and other community sites. She facilitated the Art Mobile program, which provides hands-on creative experiences for individuals whose access to the arts is limited, primarily by socioeconomic barriers. This program connects with Arizonans of diverse backgrounds through partnerships with education and service organizations. Jessi also coordinated volunteers, facilitated teaching artist residencies in schools, and presented visual art exhibits.
Prior to her work at Phoenix Center for the Arts, Jessi served for ten years as the Community Arts Director of Quad City Arts, a nonprofit organization in Iowa and Illinois. In this role, she facilitated numerous projects and programs and managed the financial operations of the organization. She fostered strong connections within the arts, education, and civic communities to develop and implement relevant programming that served public interests. While living in the Quad Cities, Jessi volunteered with many organizations, including United Way, Big Brothers Big Sisters, City of Rock Island, Quad Cities Chamber of Commerce, Illinois Arts Council, and Iowa Arts Council.
How is CFA's work important to you?
I like the simplicity of the mission of CFA. Anything that comes up that is important to Arizonans can become a focus of our work. So it's not so narrow that we can get into ruts. We can take advantage of opportunities as they arise. That's exciting.
What do you love about Arizona?
I have found Arizona to be extremely friendly and surprisingly diverse. The thing I like most about Arizona and what brought me here is that it's not terrifically institutionalized and locked down. There is still a lot of room for growth. You can find you way into a community or a project or an activity without coming up against significant barriers. I've found this state to be easier to adapt to than other places. I've found Arizona to be a permeable community in a lot of ways.
What's your story? What was your path to CFA?
My path to CFA started with my relocation to Phoenix in 2016. I came to Phoenix because I liked it. I found a job in the arts because of my background. I become somewhat dissatisfied with that particular professional opportunity, so I started looking elsewhere. I've always wanted to work in non-profit. That's where I wanted to be. I have a background in finance and HR, and CFA needed that, so it all just worked out for me like that.
How does your work impact CFA?
My role is to do the mundane behind the scenes work that keeps the impact initiatives running. I do whatever background support that keeps things moving.
When did you first consider Arizona home to you?
I think the first time I really felt at home is when I went on autopilot driving home. When you're not thinking about where you are going and you just end up at home. That made me feel like I'm comfortable here. I was out of town somewhere and I said that I was going home, referring to Arizona. I had never referred to Arizona as home before, but it kinda just came out.
How do you hope to impact Arizona through your work at CFA?
Our work is and always should be a moving target because our goal is to serve Arizonans. I would like to see the Arizona community, statewide, recognize CFA as a resource and partner in what they want to do.