Kristi Tate
Director, Civic Health Initiatives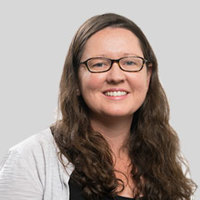 Kristi Tate
Director, Civic Health Initiatives
Kristi Tate has served in leadership roles spanning organizations focused on education, service, and civic engagement. Prior to joining the CFA team, Kristi served with the National Conference on Citizenship (NCoC), a congressionally chartered organization dedicated to strengthening civic life in America. Her focus at NCoC was on developing and leading partnerships for the Civic Health Index, which creates reports and initiatives designed to strengthen civic life in communities across the country. Before joining NCoC, she served at Georgetown University's Center for Social Justice as Director of the DC Schools Project. She has also directed programs for HandsOn Greater Phoenix and the Boys and Girls Club of Boston Charlestown Clubhouse. She has a B.A. from the University of Notre Dame and Master of Arts in Liberal Studies degree from Georgetown University, with a focus on social and public policy.
How is CFA's work important to you?
I am proud of CFA's deep commitment to strengthening civic life across Arizona. I believe strongly that more vibrant civic participation and connected communities are essential to moving forward on any of the issues we care about as a state. I've had the opportunity to lead civic engagement and service initiatives in a variety of settings across the country, from community-based programs through national research and strategy. I love that CFA helps incorporate these different approaches by bringing a focus on systems-level change alongside meaningful community impact.
What do you love about Arizona?
What I love most about Arizona is the amazing family we have within a mile of our home and the community of people who care about the state and are invested in making it better. I also love the access to the outdoors and variety of landscapes. It's incredible to drive just a few hours to the mountains to escape the Phoenix heat in the summer, and to enjoy the beautiful desert during the winter.
What's your story? What was your path to CFA?
I feel really fortunate to have joined the CFA team upon moving to Arizona. I first became familiar with the work here in the years I worked in Washington DC working with the National Conference on Citizenship (NCoC), a national nonprofit focused on civic renewal. I had the opportunity to partner with CFA and always admired the 'do-tank' spirit of the organization driving an action-oriented agenda that really responded to the priorities of the people that live here. My husband is from Phoenix and we always wanted to call Arizona home and raise our kids here. When we finally decided to make the move, it was a great opportunity get involved firsthand in developing a set of Civic Health initiatives that are working to ensure more Arizonans are engaged and empowered to participate in civic life.
How does your work impact CFA?
At CFA, we are driven by the belief that civic health is essentially defined by how our communities come together to define and address public problems. We know that greater civic participation and more connected communities are important priorities to Arizonans in their own right. We also believe that stronger civic health ultimately helps build our capacity to move forward on key priorities, whether that's a great education, or protecting natural resources, or access to opportunity.
When did you first consider Arizona home to you?
Building a life here for our three kiddos has made Arizona home.
How do you hope to impact Arizona through your work at CFA?
I hope to contribute to efforts that help more Arizonans, particularly more young Arizonans, understand that their voice and their role in our communities and democracy matter and to provide pathways and opportunities to get engaged.