Lin Phillips
Executive Assistant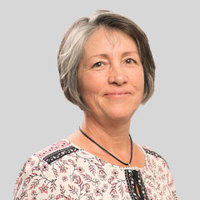 Lin Phillips
Executive Assistant
Lin Phillips is executive assistant to Lattie Coor, as Chairman and CEO for the Center and as President Emeritus of Arizona State University. She has been with CFA since its inception in 2002, and since 1983 she has continuously served in administrative support positions in the Office of the President at ASU. Phillips earned her AA degree from Mesa Community College in 1974 and was a medical assistant prior to coming to ASU.
How is CFA's work important to you?
CFA's efforts to bring data and opportunities to impact issues of importance to Arizona citizens.  We have worked diligently to identify areas of concern and to bring people together to address the issues.  I am proud to be part of an organization whose mission is to make Arizona a better place for as many people as possible.
What do you love about Arizona?
I love the climate, open spaces and the variety of beautiful places in Arizona.
What's your story? What was your path to CFA?
My path to CFA started with being an Administrative Assistant for 20 years in the ASU President's Office.  I left the Tempe Campus to provide administrative support to Dr. Lattie Coor as he transitioned from the presidency of ASU to starting CFA as a non-profit organization.  I was one of the original employees of CFA along with Dr. Coor and Dr. Francis.  As the only support staff I had to learn new skills and be ready for anything.  It was a great growth opportunity!
How does your work impact CFA?
My current work includes supporting Dr. Coor as Founding Director and Chairman of The Board and interacting with the Board of Directors who are advising CFA on strategic planning.
When did you first consider Arizona home to you?
I have lived in Arizona since I was 4 years old and consider it my home as much as if I was a native Arizonan.  I didn't always appreciate the desert climate but now I don't see myself living anywhere else.
How do you hope to impact Arizona through your work at CFA?
I plan to continue contributing to CFA's success until my full retirement.  I enjoy problem solving, being proactive in providing support and hopefully making it easier for those that I support to do their work.