Maya Watts
Project Manager Career Exploration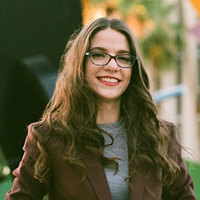 Maya Watts
Project Manager Career Exploration
Maya started her career teaching special education in the Phoenix Elementary School District, primarily serving students of color from low-income families. After three years in the classroom, Maya joined the Center for the Future of Arizona's Pathways to Prosperity team as a research assistant to support the piloting of Possible Futures Curriculum in schools and districts across Arizona. Upon completion of her master's degree in Education Policy from Arizona State University, Maya continues to work on the Pathways team as a Project Manager supporting and expanding access to quality career exploration and guidance for middle schoolers.
Maya designs and facilitates district and teacher training programs to support school partners using the Possible Futures Curriculum. Following the COVID19 shutdowns, Maya managed the digitization, and continues to maintain and update, the Possible Futures Curriculum to reflect national and regional labor market needs as they change over time.
How is CFA's work important to you?
CFA's work is focused on bringing Arizonans together for a brighter future for everyone in Arizona. Growing up in Arizona, I have always had a deep appreciation for the uniquely diverse humans that call this place home. It is important to me that at CFA our work is focused on a shared vision of success around what matters most to Arizonans.
What do you love about Arizona?
Arizona is the home of one of the greatest of the Wonders of the World, The Grand Canyon. Embarking on an adventure in Arizona's wilderness truly is exploring the Wild Wild West.
What's your story? What was your path to CFA?
I view education as the lifeblood of communities and society. I have always felt drawn to working in spaces that strive to create equitable access to education and eliminate barriers. This passion drew me to teach in the special education inclusion program at Phoenix Elementary School District. While working on my master's degree in Educational Policy, I thrived in the work around research and policy. On the Pathways to Prosperity team at CFA, I am able to marry my love of education with my passion for increasing equity through the development of career exploration curriculum and programming.
How does your work impact CFA?
As a member of the Pathways to Prosperity team, I guide the definition and expansion of equitable access to quality career exploration and guidance for Arizona's middle and high school students.
How do you hope to impact Arizona through your work at CFA?
Like my mantra while exploring the great outdoors — I hope to leave Arizona better than I found it.