Megan McWenie
Director, Operations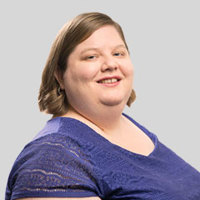 Megan McWenie
Director, Operations
Megan McWenie joined the Center for the Future of Arizona (CFA) in 2012. She has committed her career to improving educational outcomes for all students, with experience in adolescent literacy, facilitating adult learning, design thinking, and systems design. Megan began her career as a high school reading intervention teacher and Teach for America corps member in Las Vegas, Nevada. She returned to her home state of Arizona to join the Phoenix Union High School District, where she worked as a teacher, instructional coach, and Cambridge Coordinator. She also supported the development of new teachers as a staff member of Teach for America's Summer Institute. She has enjoyed several roles in her time at CFA, beginning as a Learning Collaborative Coordinator, becoming the Manager, Education Innovation and Student Success, and most recently as the Manger, Strategic Operations.
Megan is a graduate of the University of Arizona, with a BA in English and History.
How is CFA's work important to you?
My background is in education. I was a classroom teacher and an instructional coach in Title 1 high schools in Las Vegas and Phoenix. Moving to CFA gave me a chance to impact wider educational systems of Arizona, working to improve equity in student achievement outcomes. At CFA, I've had the opportunity to work with a diverse range of schools from across the state. To implement innovative performance-based education models focused on preparing many more Arizona students to be college and career ready.
What do you love about Arizona?
I'm a third generation Arizonan. This is where my family is from and I spent so much of my youth traveling to every corner of the state hiking, camping, and appreciating the natural beauty of our state.  I love the history and character of our state; it's very unique in the country. I like that it is a place where there is a lot of opportunity and openness for innovation. There  are the things that inspire me.
What's your story? What was your path to CFA?
Before joining CFA, I was an instructional coach at one of the first schools to implement the Move On When Ready initiative. I had the unique experience of being a part of that founding cohort of schools in one of CFA's earliest initiatives. As Move On When Ready continued to grow over the years, the opportunity arose to join CFA to coordinate their expanding Learning Collaborative.
How does your work impact CFA?
In my current role as Manager, Strategic Initiatives, I see my role as providing systems and supports for our initiative teams to accomplish their goals and measure their outcomes.
When did you first consider Arizona home to you?
I was born at St. Joseph's in Central Phoenix. I grew up in Tucson surrounded by Mountains and the Sonoran Desert. The smell of creosote after a summer monsoon means home to me. I also have great memories of playing in the irrigation water in my grandparents' backyard in North Phoenix. This was something my dad and uncles had also done growing up in Phoenix in the sixties. I'm so grateful to have these generational connections to the place I call home.
How do you hope to impact Arizona through your work at CFA?
What keeps me engaged in this work is the hope of seeing prosperity and opportunity much more equally distributed across all Arizonans. I'd love to see Latino youth, rapidly becoming the largest block of our young people, accessing expanded opportunities and supports to achieve postsecondary attainment.