Moises Pimentel
Project Manager, College & Career Pathways–Southwest Arizona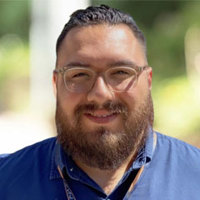 Moises Pimentel
Project Manager, College & Career Pathways–Southwest Arizona
Moises Pimentel is from Yuma, a beautiful city in Southwest Arizona known for being the sunniest place on earth and the lettuce capital of the world. Moises is a second-generation Mexican-American and was born in Gilroy, California, to parents who were migrant seasonal farmworkers. After years of migrating between Salinas and Yuma, his family decided in 1991 to permanently reside in Yuma. He graduated from Cibola High School and graduated from Valle del Sol's Hispanic Leadership Institute (HLI). He worked within Special Education at the Yuma Union High School District for several years and transitioned into Workforce Development in late 2013. He served as the Career Center Manager for the Yuma Private Industry Council, Inc. overseeing the daily operations and intake activities at their youth career center. He focused on serving high-risk youth that faced substantial barriers to educational and workforce opportunities by providing them access to on-the-job training, internships, occupational certificate training, high school equivalency courses, leadership opportunities, and other community services on a volunteer basis.  
Moises has built nearly a decade-long career in workforce development and previously served as a Business Consultant under WIOA programs. His focus was engaging employers with ARIZONA@WORK business services, and he worked on several projects spanning federal, public, and private sectors, as well as statewide and bi-national initiatives. The United States Department of Labor recognized his team's work as a best practice for its robust delivery of business services. The Workforce Arizona Council also commended it. He's also worked on several economic development projects in the attraction & retention of new businesses for all economic development entities in Yuma County.  
Moises is passionate about his community and enjoys working on collaborative efforts that serve Yuma. He believes the best way to uplift a community is not by leaving it to one but rather by bringing many to the table with the same desire to make things better. 
Moises serves as the Vice-Chair for the board of Adult Literacy of Southwest Arizona (ALPS). He also enjoys spending time with his daughter. Their favorite activities together are taking trips, going to the beach, and visiting theme parks.