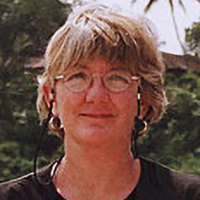 Pat Beaty is a consultant with more than 45 years' experience in strategic planning, marketing, and writing initiatives that support an organization's mission and goals. Prior to joining CFA as a Senior Fellow in 2006, she served as the Vice Chancellor of Strategic Planning for the Colorado State University System, the Vice President of Strategic Planning and Marketing for the Arizona State University Foundation, a Senior Consultant for the ASU Campaign for Leadership under President Emeritus Lattie Coor, and other nonprofit and business accounts.
How is CFA's work important to you?
CFA is a unique organization. It is committed to giving voice to the people of Arizona on all issues that affect their individual futures as well as the future of their communities. Its statewide efforts include everything from such transformative efforts as two Gallup Arizona polls, local efforts to hold community conversations in all areas of the state, and the truly ambitious effort to build progress meters for the major issues of our time. CFA is both innovator and a collaborator. No matter what issue it addresses, from civic health to education and workforce development, CFA listens to all voices and works and always moves forward in a thoughtful and responsible way.
What do you love about Arizona?
 I love the open spaces and the horizons, the people, and the sense of opportunity that I have always felt is part of this state. In my mind, Arizona is the New West. I wish we could create a museum like the one in Charlotte, NC. It's called the "museum of the new south." Arizona could provide everyone with the "museum of the new west."
What's your story? What was your path to CFA?
My path to CFA was guided by my experience at ASU with both Lattie Coor and the ASU Foundation. I had worked with both for almost 15 years and have always found the effort meaningful. My work with Lattie, Elva and the ASU Foundation led to Lattie asking me to consult at CFA in 2006. I loved the experience. It was bold, and meaningful: find out what the people of Arizona want for the future and support their efforts to achieve it. When Lattie retired, I began working with Sybil Francis and truly enjoyed her willingness to complete the progress meters with one final essential one – the young talent progress meter. What will it take to develop, retain and recruit the next generation of leaders and community builders? Dr. Larry Penley, also a Senior Fellow, and I have found it a great joy to meet so many capable young leaders from across the state over the last couple of years.
How does your work impact CFA?
I believe I have had some impact in the past, especially on The Arizona We Want, and more recently the Young Talent Progress Meter.
When did you first consider Arizona home?
It's my home. I grew up in Glendale, an agricultural community at that time, and I had a wonderful small-town experience. While I lived outside the state for either college or work for a few years, most of my life has been spent here.
How do you hope to impact Arizona through your work at CFA?
There was an editorial in the Republic a month or so ago calling for the next generation of leaders to step forward. I believe in that message. My generation has had our turn. I still have experience and a way of thinking to contribute, and I will always be available if CFA needs me, but there are also other hills to climb.