Robert Luster
Director, Information Technology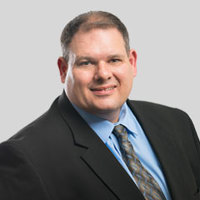 Robert Luster
Director, Information Technology
Robert oversees the Center's technical projects and directs the delivery of networks and development. Prior to joining CFA, he worked as Manager of Electronic Communications at Arizona State University Foundation. Robert has consulted extensively on enterprise application projects with Fortune 500 companies and served as a part-time Freelance Web Developer where he built custom websites for small local businesses to help them establish an online presence. He worked as an Application Developer for Electronic Arts in the video game industry for several years before moving to Arizona in 2002.
How is CFA's work important to you?
As an Arizonan with children, it's important for me to live in a community that I love. The work here at CFA touches a lot of different aspects of Arizonan life. It's very rewarding to work for an organization that makes an impact across the state.
What do you love about Arizona?
I love the openness. I come from the San Francisco Bay Area, where everything is closed in and populated. I enjoy the vast openness I see every day on my commute home with wild horses kicking up dust across the vast land with a sunset. I used to think the desert was boring and dead, but when it blooms it's amazingly beautiful.
What's your story? What was your path to CFA?
CFA sought me out when I was working for the ASU Foundation. They were looking for a web developer for the Beat the Odds initiative.
How does your work impact CFA?
In the marketing and communications realm, I get to do all the cool technical stuff. The website is pretty far reaching and represents CFA on a global scale. I think that's an important role because the first place people go to is the website.
When did you first consider Arizona home to you?
I'm from the Bay Area and I was working in the video game industry for EA Sports. I was working with the online division, but it was during the dot com bust. I knew the layoff was coming and my wife and I wanted to start a family. We wanted to own a home and that wasn't a practical option in the Bay. So we decided to move to Arizona. That's where we started our family, so both my kids are native Arizonans.
How do you hope to impact Arizona through your work at CFA?
For me, it goes back to the Arizona Progress Meters. I think that data is really important to put in the hands of our communities and elected officials, so they understand where we are now. How are we doing? Where can we improve? And where are the gaps? To be able to take that data and make policy. To make those changes that are so needed in our state, because there is always room for improvement. I hope to make that data accessible and usable and help provide the tools for people who are making decisions.