Bethany Bennick
Senior Manager, Domestic & International Engagement, Greater Phoenix Economic Council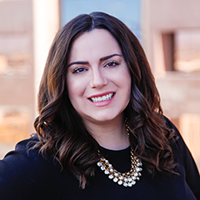 Bethany Bennick
Senior Manager, Domestic & International Engagement, Greater Phoenix Economic Council
Why are you in Arizona?
I am a proud first-generation Arizonan – born and raised in Cave Creek. My childhood embodied the nexus between hyper-localization and globalization in way that has shaped my entire adult life. While I had the good fortune to live, study, and work in Switzerland, France, and California, I ultimately returned home because of the immense, untapped opportunity to introduce the world to Arizona and vice versa.
I did this by pursuing my master's degree at the Thunderbird School of Global Management and implementing public diplomacy initiatives for Phoenix Sister Cities and the Global Ties Arizona (World Affairs Council of Arizona). To date, I have curated the exchange of 469 citizen diplomats from 70+ countries, including 35 thematic projects for the Department of State's International Visitor Leadership Program. For many, it was their first encounter with Arizona. It has been my personal joy to reinvigorate their understanding of my home state.
I am currently with the Greater Phoenix Economic Council where I oversee engagement opportunities for our 22-member communities and 170+ private investor companies. I now leverage my international experience by supporting the implementation of our trade promotion strategy via the Envoy Pilot Program and FDI-focused International Leadership Council. I never tire of learning about the region's competitiveness and supporting business attraction efforts for quality jobs.
What concerns you?
Greater Phoenix is at a pivotal moment in its young history. We are uniquely positioned to scale a robust and diverse economy while sidestepping the mishaps of more mature markets. We must use this knowledge to our advantage as our state's population continues to swell. We need to seriously consider our approach to finite resources, infrastructure improvements, and community health should our growth be sustainable. I am proud of Arizona's ability to collaborate and innovate, together, and hope this inclusive approach to progress continues long into the future.
Why would you leave?
I plan to pursue opportunities abroad at some stage in my career. With that said, I know I will return to Arizona in my lifetime. It is not the sort of state you can stay away from forever.