Casey Arellano
Deputy Legal Defender, Maricopa County Office of the Legal Defender - Phoenix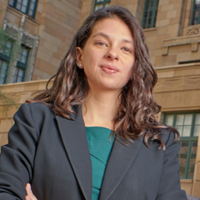 Casey Arellano
Deputy Legal Defender, Maricopa County Office of the Legal Defender - Phoenix
Why are you in Arizona?
I was born and raised in Phoenix. After graduating from UArizona, I moved to Washington, D.C. where I earned my law degree from The George Washington University and began working on human rights issues for a nonprofit. I decided to return home because I wanted to advocate for those in my community and effectuate change for the underserved. Upon returning, I helped start a nonprofit law firm. Now, I am a public defender where I have the privilege of defending the constitutional rights of individuals charged with felonies.
What concerns you?
Arizona has very harsh sentencing laws and the criminal justice system disproportionately impacts low income and minority communities. Considerable reform to our legal system is needed. We are a diverse state but the voices in leadership are not diverse, and we need greater representation. I feel lucky to have purchased my home in central Phoenix in 2016 but I recognize affordable housing is still an issue for many.
Why would you leave?
I might leave for an opportunity to make a more systemic impact or due to financial constraints of government work, however, I am a Latina with deep roots in Arizona.