Cylee Gutting
Vice President, Public Square Public Affairs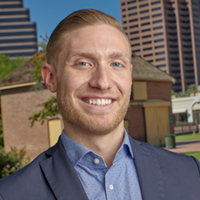 Cylee Gutting
Vice President, Public Square Public Affairs
Why are you in Arizona?
I was raised in rural Missouri where opportunity was limited and my family struggled which led me to become very involved at school with a community service organization called Key Club International, a Kiwanis affiliate. When I was a senior, I was selected as one of four nationally to receive a Kiwanis scholarship to participate in Arizona State University's Leadership Scholarship Program. After ASU, I worked on Governor Ducey's first gubernatorial campaign as a field representative overseeing western Arizona and Pinal County. That experience of traveling the state led me to fall in love with all of Arizona. I now work for Greater Phoenix Leadership, an association of CEOs and business leaders, as their Director of Member Engagement & Community Partnerships where I support their legislative, political, and community affairs efforts.
What concerns you?
I'm concerned about the state of our social capital, the direction of partisan politics, and the impact it is having on our communities. I worry about the declining trust within my generation toward local institutions as a meaningful agent for impacting change. Over the past five years, Arizona's unique mix of west coast idealism and wild west libertarianism has come together to foster an optimistic and hopeful culture where upward mobility actually seems possible. I worry that the polarization of national politics and the distrust it has sown in my generation has put at risk thoughtful policymaking and the type of growth and gains we are experiencing. I'm also concerned about the lack of affordable housing for young Arizonans and if our elected leaders are doing enough to address it.
Why would you leave?
I love Arizona. In a world more mobile than ever before, I think I would only consider leaving if there was a shift in elected leadership away from one that values job creation and economic growth. I need my skills to remain competitive in a global market so that I can provide a quality life for my future children.