Greg LaVann
Economic Architect & Senior Vice President, The Greater Yuma Economic Development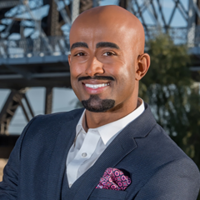 Greg LaVann
Economic Architect & Senior Vice President, The Greater Yuma Economic Development
Why are you in Arizona?
I was born in New York and came to Yuma because of love and economic opportunity. I originally thought we would move on to a larger market, but I am now committed to ensuring the greater Yuma region reaches its global potential. I am the Senior Vice President and Economic Architect for the Greater Yuma Economic Development Corporation.
What concerns you?
Yuma is at the heart of a large, interdependent international economy that borders four states and two countries. Agriculture, tourism and military are currently the foundation of the economy, but there is a great need to diversify beyond our traditional economies. Yuma has an abundant, dedicated workforce that lacks advanced skills and education. Despite the presence of all three state universities, we are stagnated by limited historical investments in higher education. Small, strategic investments focused on innovation in our region will generate large returns.
Why would you leave?
My wife and I will leave if there's a lack of vision on the part of both Yuma leaders and state decision-makers to broaden Arizona's economic prospects beyond the metropolitan areas.