Jerry LoCoco
Managing Director, SVN Velocity Commercial Real Estate - Yuma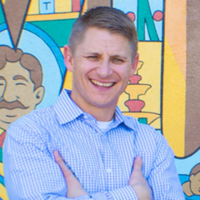 Jerry LoCoco
Managing Director, SVN Velocity Commercial Real Estate - Yuma
Why are you in Arizona?
I was born in Sierra Vista, and at about at the age of 5, I moved to Yuma, AZ with my mother and sister. At the age of 13, my mother was overcome by drug and alcohol addiction and by the grace of God I was taken in by what amounted to four Yuma families. I credit these families and their love and compassion with making me who I am today. I graduated from ASU and then went on to Tucson to earn a law degree. I am married to an amazing Yuma girl and we are blessed with three daughters. While my wife and I love both Phoenix and Tucson, when we had our first daughter, we knew it was time to move home. We wanted to raise our family in Yuma, the community that gave us so much. Together with my wife, I am the founder and Managing Director of a commercial real estate and development firm, SVN/Velocity Commercial Real Estate.
What concerns you?
I love the fact that Arizona promotes entrepreneurship, and I believe that the state will realize an increased return on investment once we invest in counties that are often overlooked. In a similar way that downtown Phoenix was an underutilized asset to the state twenty years ago, Yuma County is also an underutilized asset in need of investment. Much like downtown Phoenix, expanded investment in higher education would ignite an economic resurgence in ways that would capitalize on the resources unique to Yuma County and attract further investment in the state in ways that would rarely compete with other communities. Expanded access to higher education will help Yuma County further attract many of the 1.5 million people living within 45 minutes of Yuma. Expanded investments in higher education would create an environment of innovation and growth around the nearly 7.1 Billion Yuma County GDP. Innovation and intellectual research driven by the presence and commitment of a researched based university(s) is the key to taking the state's 3rd largest producing economic region to levels that will allow Arizona to continue to grow in a positive, sustainable manner.
Why would you leave?
My family and business are committed to Yuma. We love our home!