Khara House, CAM
Director of Communications & Public Affairs, The Bella Group, LLC. & City Council Member, City of Flagstaff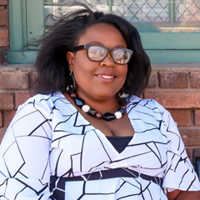 Khara House, CAM
Director of Communications & Public Affairs, The Bella Group, LLC. & City Council Member, City of Flagstaff
Why are you in Arizona?
I'm originally from Pennsylvania but came to Flagstaff in 2009 for school and stayed because of a teaching opportunity. I wanted to stay in Flagstaff but needed more job security. I now work in multi- family property management.
What concerns you?
Much as I like Flagstaff, cost of living makes it difficult to live here. Costs of living are on the rise and wages have not kept pace. I'm Involved in volunteer work for a number of organizations, and another concern I have is the lack of celebration of the city's history. Various cultural groups helped build Flagstaff in the early years with their labors in the timber and railroad industries. Some plaques would not be inappropriate.
Why would you leave?
I am passionate about politics and social engagement; my community work keeps me here. If I began to feel that my efforts were not having an effect, I would be more likely to leave.