Kirk Dunn
Founder, Good Dirt Farming Company - Yuma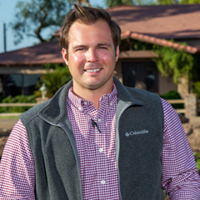 Kirk Dunn
Founder, Good Dirt Farming Company - Yuma
Why are you in Arizona?
My great grandparents moved here from Texas to start our family farm. It's a way of life for us and I'm proud of what we've built. I appreciate the great sense of community in Yuma. People feel connected and involved with one another because many of us have deep roots here.
What concerns you?
Agriculture is a competitive industry. For family farms such as ours, some of the largest issues we face include the regulatory environment, our country's broken immigration system, and trade barriers preventing farmers from selling U.S. grown agriculture products to certain world markets. As a graduate of the University of Arizona, I know how important rapid tech transfer from the universities is to our success as an industry. Water will always be a divisive issue, but Yuma and the tribal communities have the best chance to maintain Arizona agriculture because we have the most sustainable water supplies. Above all, we want Arizona to stay independent and pro-business.
Why would you leave?
It would take a lot to move me away from Arizona. If agriculture becomes economically impossible here, I would have to make a hard decision.