Kristina Crane
Chief Strategy Officer, STChealth - Phoenix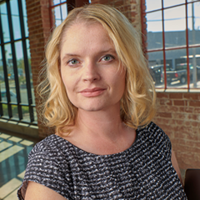 Kristina Crane
Chief Strategy Officer, STChealth - Phoenix
Why are you in Arizona?
I grew up in Spokane and graduated from Gonzaga University with degrees in education, business and Spanish. I began working in the insurance industry before college to help pay for my education. When my company received a contract with Sears, I ran the training program for new employees. During college, I studied abroad in both Spain and Mexico providing me a worldview. After graduating, I led business development for a nonprofit focused on public health and eventually started a consulting business working to implement immunization registries with providers, which was ultimately bought by my current employer, STChealth, a 31-year old Arizona technology company. My family and I moved to the Greater Phoenix area five years ago with the firm.
What concerns you?
Metro Phoenix faces a great challenge in keeping young talent here, especially technology talent. Culture, empowerment, innovation and growth opportunities are essential elements for tech young talent. It is critical for tech employers to come together to identify the workplace and larger community culture needed to retain talented people who are skilled, mobile and in high demand. High quality-affordable childcare and education is also an issue when so many young families move here without a support system.
Why would you leave?
I am always focused on upward mobility.