Lauren Evans
Community Relations Manager, Mister Car Wash - Tucson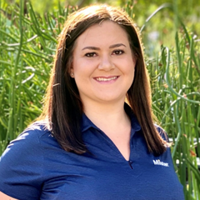 Lauren Evans
Community Relations Manager, Mister Car Wash - Tucson
Why are you in Arizona?
I was born in Tucson and I graduated from the University of Arizona in business management, communication, and sports management. My family and my work keep me here. I'm in charge of community relations for Mister Car Wash, the world's largest car wash company. Its mission is "inspiring people to shine," and "We Care, We Hard Work and We Have Fun" defines the company culture, including those in minimum wage jobs. The best part about Tucson is the way the community supports the University of Arizona and especially the Athletics programs. It doesn't hurt that Tucson has some of the best hole-in-the-wall restaurants, too.
What concerns you?
There isn't a lot of opportunity for marketing people in Tucson, and there aren't enough large companies with marketing positions. But the growth potential is exciting!
Why would you leave?
I don't think I would ever leave except maybe for someone I love, but I'm not even sure that could take me away. Some of my friends leave because they want to try new things, but they say they would return to start families here.