Leanne Cardwell
Senior Consultant, Partner Forces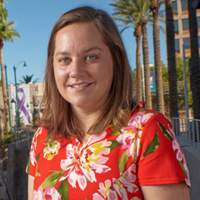 Leanne Cardwell
Senior Consultant, Partner Forces
Why are you in Arizona?
I grew up the West Valley (Peoria) and graduated from ASU in 2008. After joining AmeriCorps and moving to Hawaii, I moved to Pittsburgh, earned a master's from Carnegie Mellon, and returned home to Arizona in 2012. My husband and I used his Veteran's benefits to purchase a townhome in West Mesa. We like the East Valley for its cultural offerings, public transportation and community feel.
What concerns you?
My monthly college debt payments account for a quarter of my net pay, impacting my ability to save. To address the fact that older generations are holding off on retirement, organizations need to invest in career paths or job rotation programs that will dynamically engage highly educated younger workers and prepare for generational succession in leadership. Housing/rent costs have skyrocketed, and homelessness, especially among seniors, is accelerating valley-wide due to a lack of affordable housing. We need to address this with policy solutions.
Why would you leave?
I would leave for an opportunity to grow my income or career, or to live in a more affordable city. People often have to move out to move up.