Luke Amargo
Entrepreneur Manager, Better Business Bureau - Phoenix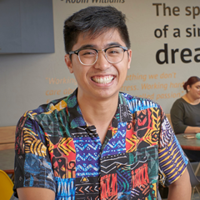 Luke Amargo
Entrepreneur Manager, Better Business Bureau - Phoenix
Why are you in Arizona?
My family comes from the Philippines and California. My grandfather served in the Filipino underground during World War II and afterwards joined the American Navy. My father and uncles also served in the American military. Duty, honor, and resolve, as immigrants, are emblematic of the truest of American and immigrant values. I came to Arizona to attend Grand Canyon University and am now a doctoral candidate. Previously I served as a Manager at the Honors College at GCU; now I am Entrepreneur Manager at BBB's first incubator "ignite."
What concerns you?
I believe Arizona needs to encourage an intentional awareness of what outliers bring to the community — be it veterans or immigrants. For anyone working to keep talent here, provide mentorship and educational benefits.
Why would you leave?
I've a passion for the veterans and others who are unfairly neglected. Arizona must allow entrepreneurism from the bottom up. Kendrick Lamar has a litmus test quote, "If I told you that a flower bloomed in a dark room, would you trust it?