Lupita Gamez
College & Career Readiness Mexican-American Student Services, Tucson Unified School District - Tucson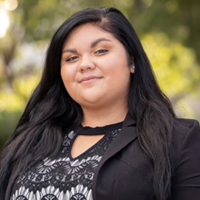 Lupita Gamez
College & Career Readiness Mexican-American Student Services, Tucson Unified School District - Tucson
Why are you in Arizona?
I was born in Sinaloa, Mexico. My father is from Mexico and my mother is from San Jose. We came to Tucson in 2005 and I graduated from high school with a full scholarship my first year to the University of Arizona. I graduated in 2017 with a degree in Mexican-American Studies & Latin American Studies, and I now work for the Tucson Unified High School District. I'm charged with college and career readiness district wide for Mexican American Student Services.
What concerns you?
My staff of eight works district wide, which becomes challenging since more than 70% of students within TUSD identify as Latino. We are stretched thin. Regarding college and career readiness, most students are first gen, so the transition is challenging, but my support extends to the families as well. Like I say to parents, "It's not just your student going to college, it's your entire family."
Why would you leave?
Most Mexican-American students graduate from UArizona and then leave. I want to stay because I'm passionate about youth development and giving back to the community that supported me.