Noah Wolfe
Director of Development, Grand Canyon University - Phoenix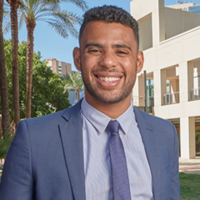 Noah Wolfe
Director of Development, Grand Canyon University - Phoenix
Why are you in Arizona?
I was born into a Virginian community that had been stifled by limited access to opportunity. The cultural diversity that I was surrounded by in my early years taught me the value of all people regardless of where they come from. The way that Arizona has embraced these values has played a major role for why I am here.
What concerns you?
I believe that Arizona must continue to push for inclusivity across all categories if we wish to keep progressing forward. Education certainly represents one of these categories. All students must have a higher level of resourcing when it comes to how they can pursue federal and scholarship funding to pursue higher education.
Why would you leave?
While living in Phoenix, I have come to find that the leadership here is more dynamic, more approachable and less entrenched. It has been a privilege to work in this community alongside of so many individuals who are all committed to championing the concept of equal opportunity for all. As long as this city remains committed to these standards, I cannot see myself leaving anytime soon.