Rebecca Determan, MBA
Digital Marketing Manager, TGEN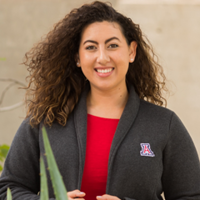 Rebecca Determan, MBA
Digital Marketing Manager, TGEN
Why are you in Arizona?
Born and raised in Yuma, I came to Tucson to attend the University of Arizona. While in college, I earned a Neuroscience degree as I had always been interested in pursuing a medical career. I was also the school mascot, Wilma, for two years.
After graduation, I participated in the Walt Disney World Internship for six months and returned to UArizona for my MBA because of the university's and Tucson's friendly atmosphere. I am currently a project specialist for the UArizona Alumni Association working with students and young alumni. My long-term career interests include hospital administration and higher education.
What concerns you?
My experience with health care and physicians was affected by my sister's story, who died of pediatric cancer. I experienced the doctor-patient relationship up close and how doctor-family communication could be improved. I've also seen the lack of resources for mental health issues. We need to change our attitude about emotional issues among youth, whether it's from autism, or any other life situation.
Why would you leave?
I plan to stay in Tucson. I enjoy the kindness and openness, and opportunity.