Suzie Boyles
Economic Development Director, City of Buckeye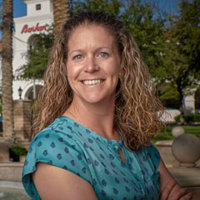 Suzie Boyles
Economic Development Director, City of Buckeye
Why are you in Arizona?
I am an Arizona native, born and raised in the West Valley. I attended college in New Mexico on an athletic scholarship to play Division II Volleyball and returned to Arizona after earning my bachelor's and master's degrees in Business. I worked at Make-A-Wish America for seven years and have now been in the Economic Development industry for the last six years. Working in city government is extremely rewarding as you get to make a direct impact in local communities.
What concerns you?
Some of the reasons for my returning to Arizona was housing affordability, the great quality of life, and career opportunities that I do not believe I would have found elsewhere. The biggest threat to Arizona is its K-12 educational system. The youth is the future of Arizona's workforce, which plays a key role in the migration of employers and talent in the state.
Why would you leave?
I have no plans on leaving Arizona as my entire family lives here. Growing up in the West Valley I have seen the growth and prosperity the communities provide, and it is through collaboration and partnership that the West Valley will continue to thrive.