Statement from Dr. Sybil Francis, CFA President & CEO, on Governor Ducey's FY21 Executive Budget Proposal
Posted on January 22, 2020 • Category: News Release
We are excited about the prospect of Arizona's continued investment in executive development and training for school leaders throughout the state as part of a set of targeted strategies for closing achievement gaps for performance-challenged schools. Governor Doug Ducey named the Center for the Future of Arizona's (CFA) Beat The Odds School Leadership Academy among first priorities in the FY21 Executive Budget Proposal to scale access of the initiative and build upon its early successes.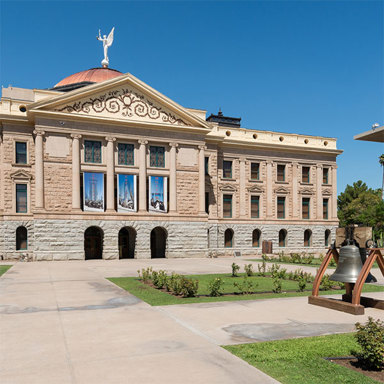 The Arizona State Capitol in Phoenix, Arizona
BTO Academy delivers executive leadership training to aspiring or current school and district leaders and is a platform for making systemic change to Arizona's education system by creating a culture of high expectations for teachers and students in traditional public school districts and charter school networks.
Student success requires strong school leaders. Research demonstrates that strong principal leadership accounts for nearly 25 percent of a school's total impact on student achievement. An investment in school leadership is a strategic investment in improved student outcomes. Leadership development for school leaders, including principals, is a driver of school performance nationwide and is a lever to improve teacher recruitment, retention and quality in Arizona schools.
Since CFA launched the BTO Academy in 2017, with public-private investment support from the Office of the Governor, Helios Education Foundation and Burton Family Foundation, more than 210 leaders from 25 public school districts and charter networks have participated and are now leading with excellence and equity, closing student achievement gaps, creating cultures of high expectations and enhancing teacher recruitment, retention and quality.
Among the districts and schools implementing BTO Academy in partnership with CFA include Empower College Prep Charter Schools, Flagstaff Unified School District, Kingman Unified School District, Imagine Schools, Littleton Elementary School District, Madison School District, Mesa Public Schools, Paradise Valley Unified School District, Phoenix Union High School District, Roosevelt School District, Arizona State Schools for Deaf and Blind, Western School of Science and Technology, and Pinal County school districts. Additionally, CFA and Northern Arizona University (NAU) have forged a statewide partnership that enables BTO Academy participants who successfully complete the rigorous leadership development the opportunity for NAU graduate credit and certification pathways.
CFA looks forward to expanding its partnerships with existing and new districts as it scales this critical work across Arizona. We are hopeful that Arizona's Legislature will receive the executive budget recommendation favorably.

Sybil Francis, Ph.D.
President & CEO
Center for the Future of Arizona