azcentral:
How will life change after COVID-19? Believe it or not, some things could get better
Posted on April 05, 2020 • Category: Op-Ed
By Sybil Francis, opinion contributor

Opinion: Coronavirus is devastating. It has also spurred innovations like online instruction and teleworking that could fuel a better tomorrow.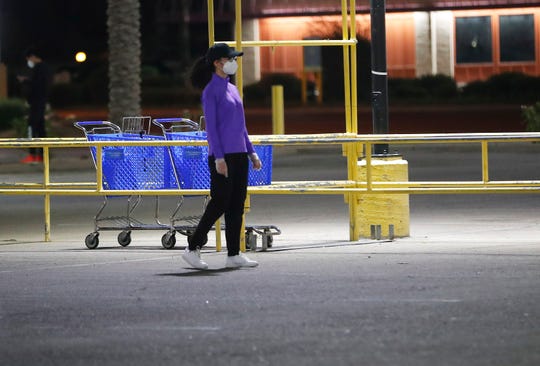 A woman wears gloves and a mask while grocery shopping in Mesa, Ariz. March 29, 2020. Shoppers have been using masks and gloves to protect themselves from COVID-19. (Photo: Michael Chow/The Republic)
The COVID-19 pandemic has turned our world upside down and is challenging us as a nation, as a state and as individuals in ways we never imagined.
As we necessarily learn the finer points of social distancing, we ask ourselves: Will I have a job? Is the food supply secure? Will I become sick?
Yet, there is hope. Frontline charitable groups are helping those displaced by this crisis. Donors are rallying to support them. Social support organizations, K-12 and higher education institutions, businesses, public-sector organizations and individuals everywhere are stepping up across Arizona.
Unexpected benefits and opportunities
And there is the unexpected. The air is cleaner, for instance. Emission-detecting satellite images show "huge declines in pollution over major metropolitan areas, including Los Angeles, Seattle, New York, Chicago and Atlanta," according to The New York Times.
Arizona Department of Environmental Quality reporting suggests that Phoenix will have half or fewer poor air quality days than last year. As of this writing, Tucson has had zero days exceeding air quality standards compared to six last year.
The reason? Fewer cars on the road. Commutes are being replaced by time with family. People – whether co-workers, teachers and students, or friends and family – are finding new ways to connect.
We often hear the old adage that in challenge there is opportunity. In crises our minds are opened to new thinking and new ways of doing things we once thought impossible or too bold to imagine. We see examples of innovation all around, including pop-up COVID-19 drive-thru stations, online kindergarten instruction and teleworking on a massive scale.
And our appreciation of each other is deepening, our understanding that we must work together is heightened, and we see anew the beauty and sustaining quality of nature and the outdoors.
6 innovations that could make life better
Even as we grapple with the painful lessons of the present let's embrace the opportunity to make the future even better. What new ways of seeing our world and each other – what innovations – will fuel a better tomorrow? Based on some of the early lessons, we can imagine a new future that includes the following:
Telemedicine. Insurance companies, regulators and much of the medical profession have resisted delivering care via video hookup. This pandemic is forcing a change in course. In-person doctor visits will always be part of treating patients, but reserving doctors' offices (and waiting rooms) for the sickest patients, and seeing the rest via telemedicine, is a smart approach.
Telecommuting. Social distancing opened our eyes to the truth that many meetings can be done virtually and that we can be productive teleworking. Working from home reduces traffic congestion, improves air quality and increases family time. It has its challenges, but many people, including their bosses, are experiencing the advantages of leaving their work clothes in the closet and avoiding long commutes.
New ways of learning and preparing for the jobs of the future. Out of necessity, K-12 is being forced to embrace all-online education. Colleges and universities were already moving that way, but suddenly they are having to deliver all classes online. Given more time to plan, what can be put to use in the new world to come? How can we ensure no one is left behind?
Greater awareness of the vulnerable. We see more than ever how dependent we are on people who work in service jobs, living paycheck to paycheck or on tips. Our economy does not serve them well, but our society cannot function without them. Some wages are being raised in response, unemployment benefits are more generous, and suddenly paid sick leave is on the agenda. What structural changes can we make to give workers a more solid footing going forward? And will we finally get serious about solving homelessness?
Evolving views of technology. We've all heard the worries that we've become too reliant on technology and that "social" media is making us less social, displacing human interaction. But as social distancing has taken hold and we are separated from friends, relatives and colleagues, we are finding that technology at its best facilitates human interaction. It has enabled us to stay connected and even advance work and relationships. We also know that too many people in Arizona do not have access to broadband. They were already disadvantaged prior to COVID-19. How might technology continue to evolve from this experience, and how do we get everyone connected?
Trust in experts and data. We find ourselves hungry for information about COVID-19. Scientific expertise and relying on trusted data to make decisions are coming back in vogue. The Center for the Future of Arizona is built on the conviction that accessible and trusted data are imperative in the development of informed solutions (even if we come to different conclusions about the best one.) A world in which facts matter is a better one.
These are just a few examples of how our world will change. Politico suggests others in the article "Coronavirus Will Change the World Permanently. Here's How." I know that Arizonans will seize on these and other lessons learned from this crisis and generate innovative solutions to drive Arizona forward.
We may not realize it, but the new thinking we employ today and the once impossible solutions that have become routine are the first steps to building a brighter future for Arizona.
Dr. Sybil Francis is president & CEO of the Center for the Future of Arizona (CFA), a nonprofit, nonpartisan organization that brings Arizonans together to build a bright future for our state.